If you are looking for the closest airport to Boca Raton Florida you should first know some information about the city. Boca Raton is located in South Florida, Palm Beach County. It is 50 miles north of Miami, is a part of the Palm Beaches region, stretching over 47 miles of the Atlantic coastline. With the opening of Henry Flagler's East Coast railroad, opening the state to the travelers during the 20th century, Boca Raton emerged as one of the premier resort towns in Florida. It is the second-largest city in the Palm Beaches. 
People flock to the city to enjoy beautiful parks, beaches and catch a glimpse of its wildlife conservation. The city is also famous for its educational centers, theaters and art museums, designer boutiques, and vibrant restaurants.
Therefore, while planning your trip to the city, ensure to fly to the closest airport to Boca Raton, Florida. This is because there are no airports in Boca Raton city. From the airport, you can take the most convenient and budget-friendly transportation to your destination in the city. Let's now find out airports near Boca Raton.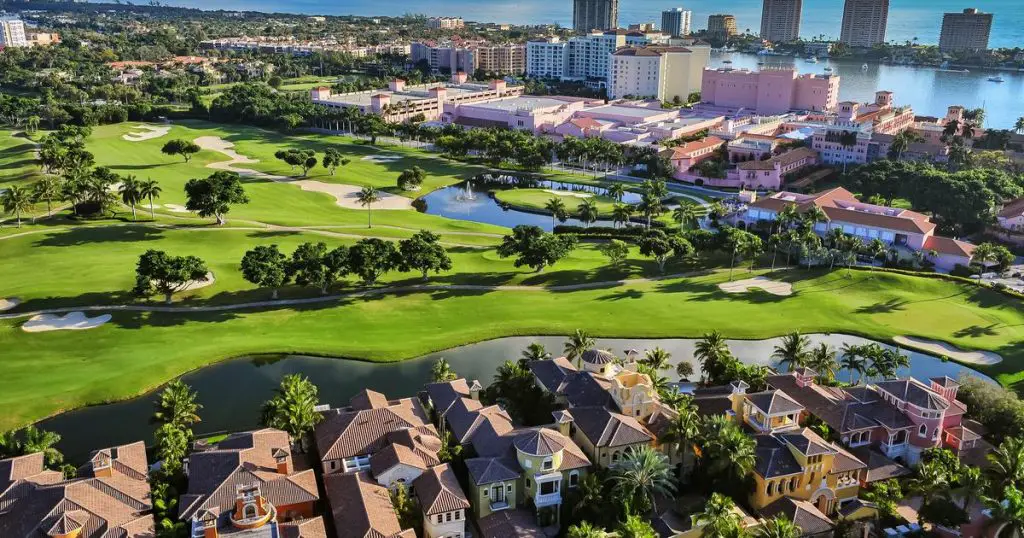 Nearest Airports to Boca Raton 
Travelers traveling to Boca Raton often search for airports near Boca Raton. You can reach your destination by flying into any of the nearby airports. Enlisted below are the major airports located near Boca Raton city.
Fort Lauderdale–Hollywood International Airport
The Fort Lauderdale Airport is located 26 miles from Boca Raton and, three miles southwest of Fort Lauderdale. Its airport codes are IATA: FLL, ICAO: KFLL, FAA LID: FLL. It became one of the major hubs serving domestic flights and commercial flights. The FLL Airport is ranked 21st for its total passenger traffic and 13th for the domestic origin and destination passengers. There are many duty-free shops, parking areas, restaurants, and bars at the airport apart from free Wi-Fi and a waiting area.
Palm Beach International Airport
The Palm Beach International Airport is located 25 miles from Boca Raton. It is a three-runway airport serving the south-central Atlantic coast of Florida, United States, primarily. In 2014, more than 5.9 million travelers flew into the PBI airport. Moreover, the airport offers a single terminal and three concourses – Concourses A, B, and C. Delta Air Lines, Frontier Airlines, JetBlue Airways, Southwest Airlines. Air Canada, American Airlines are some of the major airlines that operate from and to the PBI airport. Furthermore, the airport offers exclusive amenities to its passengers, including a putting green, a play area for children, bars, and retail shopping and restaurants.
Miami International Airport
The Miami Airport, located near downtown, is 47 miles away from Boca Raton. Miami covers 3200 acres of land area. This is a certified 3-stars airport for cleanliness, comfort, amenities, quality of services, and security. It emerged as the most active airport in terms of total aircraft operations and cargo traffic. It is the second-largest and most active after Orlando in terms of passenger traffic. 
South Bimini Airport/ Bimini International Airport 
South Bimini Airport is located 70 miles away from Boca Raton. Airlines that fly from and to this airport are Tropic Air Charters, Silver Airways, and Western Air. The airport serves Bimini, located in the Bahamas, and has flights to Fort Lauderdale.
Conclusion
If you plan to visit Boca Raton for a vacation or educational purpose, ensure to fly to the nearest Boca Raton Florida Airport. From there, you can take airport transfer service, shuttle airport service, car rental, or taxi service.