Long Term Parking at DUB
🅿 Book Parking Online NOW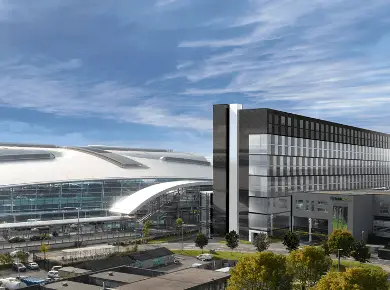 Dublin airport is one of the most excellent airports who deliver quality services to customers and provide perfect travel experience for almost 30 million passengers annually. Long-term Dublin airport parking includes 3 special areas for this purpose. Total number of spaces for cars is 18600. The parking area serves for both terminals, 1 and 2, and passengers can get there by a shuttle bus. Long stay park allows pre-booking and drive up parking, so travellers can use it at any time.
Dublin airport long stay parks
As it's already mentioned above, there are 3 available parks in Dublin airport that are arranged especially for long-term car accommodation. In general, it's a good idea to create several parking zones because long-term stay lots are often much in demand.
Express Red Long-Term Car Park
The first type is Express Red Long-Term Car Park. It's located in close proximity to the terminals and consists of 7000 spacious bays. Most importantly, this car park is considered to be the most convenient place for long stays. However, despite its closest location to the terminals, passengers have to use a bus to get to the airport. Luckily, the shuttle bus is available 24/7. Experienced travellers emphasize that it's always better to pre-book a parking space here because it will cost much cheaper.
Express Green Long-Term Car Park
This car park type includes 2000 spaces available for both terminals. It also provides a shuttle bus for drivers who leave a car in the airport garage. Transfer to the airport won't take more than 5 minutes, but it makes no difference - it's always more convenient to reach the terminal walking through a special corridor. In addition to this, this parking zone is available only in summer.
Holiday Blue Long-Term Car Parking
It's the cheapest solution for long-term parking in Dublin airport. However, it's located quite far from the terminals - 10 minutes in a bus and you are in the airport. The long stay park provides 8000 spaces because it's used by both terminal.
Off-airport long stay parking
It isn't the theory that one can easily find a good spot for parking outside the airport. Many travellers make practice of using private garages for long-term parking. In addition to all conveniences, these parks usually have affordable price. Drivers also recommend to consider complimentary free parking in hotels. It helps to save some money and get safe parking bay for long period of time.
---
🅿 Book Parking Online NOW
---