Airport Parking Dublin
🅿 Book Parking Online NOW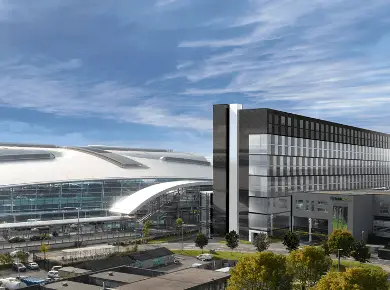 Please follow The 16th busiest airport in Europe, Dublin Airport (DAA) is your gateway to the city of Dublin and its surrounding areas. It is located about 8 miles from the center of Dublin, the largest city in the Republic of Ireland. The city welcome millions of  tourists annually who are lured by its top attractions such as religious sites, art galleries, museums, distilleries and breweries, the reasons why the Airport is busy the whole year round. Dublin Airport handles more than 27 million passenger movement annually, and is served by 34 air carriers linking the city to over 180 destinations in 40 countries on 4 continents. The airport has two terminals, and 15,500 long-term and 3,100 short-term parking spaces. Car parking at Dublin Airport requires some planning, and through our website, you can choose from an array of parking service, select amenities, and calculate costs, making your parking experience effortless.
DAA airport long & short term parking
The airport offers a number of Short-Term and Long-Term parking options. Parking is available for Short Term parking Dublin Airport terminal 1 and terminal 2. Short Term Car Park A is a 2-minute walk to both terminals. Terminal 1 Short Term Car Park C is located next to Terminal 1. Terminal 2 Short Term Car Park is a 2 to 4-minute walk to terminal 2. Dublin Airport long stay parking can be availed at the Express Red Long Term Car Parking, the Holiday Blue Long Term Car Parking, and the Dublin Airport Express Green Long Term Car Park, seasonal car park. Because the city is near the airport, you can also park in one of the car parks in the city which provides extra amenities and services, and competitive parking rates. Get in touch with our friendly staff for more information about your parking options.    
Dublin airport parking prices
Short Term Car Park fees start at €3 for the first hour, €4.50 per hour, and €40.00 per day. Long Term Blue Car park fee is €7.50 per day, and the Long Term Red car park fee is €9.50 per day. Save in parking costs when you redeem your parking Dublin Airport promotion code! For car parks in the city, daily parking fee starts at €3.66 per day. Our staff can provide you with more parking options and compare car parking Dublin Airport costs, making your overall parking experience economical and uncomplicated.  
---
🅿 Book Parking Online NOW
Airport Parking Dublin Map
Parking name
Phone number
---