Seattle Tacoma Airport Parking
🅿 Book Parking Online NOW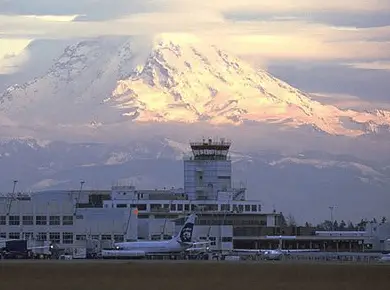 Seatac Airport (also called Seattle-Tacoma Airport) is one of the largest airline hubs in North America serving the Seattle metropolitan area. It's pretty obvious that airports usually provide full range of parking services and SeaTac airport isn't an exception. It has more than 13000 parking lots for passengers but their rates are still too high.
If to consider off-site parking, SeaTac airport (its near-by territory) has a number of opportunities for cost-efficient parking. Finding the best airport parking near SeaTac is easier than you think. Just use our website to find out more about easy airport car parking.
SeaTac airport long-term parking
Sometimes SeaTac airport long-term parking becomes an urgent need. The website helps to find the best solutions for you to park your vehicle without efforts. What's the magic formula? For example, get the list of SeaTac hotels with airport parking: many hotels set reasonable price for parking services or even provide parking spaces absolutely free. Sounds good? Let's go on! Use airport parking coupons – SeaTac turns out to be full of special deals and discount coupons that eliminate parking expenses.
Parking lots near SeaTac airport
Have you ever thought about the great number of options for cheap off-airport parking? Good news: there are many parking lots near SeaTac airport. Using the website, you can easily discover new parking spaces with good rates. Select amenities and calculate cost to accommodate your vehicle in secure and convenient place. Our website focuses on the cheapest parking at SeaTac airport.
Are you sick and tired of too high prices for parking services? Forget about unreasonably high parking tariff rates and meet affordable parking spaces with good conditions, security staff and convenient spots. Search for cheap airport parking SeaTac and compare options to choose the best one. Our service provides all tools for simple planning of your car parking strategy to save your time and money.
SeaTac airport parking rates
Terminal direct car parking type will cost you $5/hour and $37/day. For long-term parking daily rate applies. Terminal direct parking is located near the main terminal and has the shortest distance to a plane. General parking rates are $4/hour, $30/day and $140/week. If you would like to park your vehicle for a month, you will pay $350/month. SeaTac airport often offers special weekly rates.
---
🅿 Book Parking Online NOW
Seattle Tacoma Airport Parking Map
---