Santa Rosa Airport Parking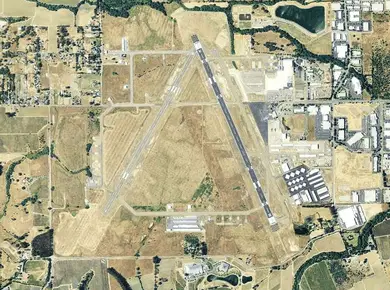 Santa Rosa airport is located in Sonoma County, California. The airport is named after Charles M. Schulz the artist who created the famous Peanuts comic series. He lived in Santa Rosa for over 30 years, and now the airport logo features his character Snoopy. Santa Rosa airport receives about 300,000 annual visits. The airport is publicly owned.
Parking options
Santa Rosa airport parking has flexible options. There are two options for both long and short term parking. The long term parking is divided into two lots while the short term parking is just one lot. All parking lots at the airport are within walking distance of the terminal. The distance of the terminal to the parking lots is kept intentionally short to give you a seamless parking experience. There are also EV charging stations in the parking areas for customers who have electric vehicles.
Long term parking
Santa Rosa airport long term parking is usually ideal for those who are going on multi-day trips. If you have reason to keep your car at the airport for more than 24 hours it is usually advisable to park your car in the long term lots. The airport offers some free parking minutes and after that, you begin to pay. The long-term lots are divided into lots A and B.
Short term parking
Short term parking should be used for more brief stays at the airport. There are some free parking minutes offered and payments begin after the free time elapses. Santa Rosa airport has positioned the terminal close to all parking lots so it is economical to park in the short term lots for brief stays.
Parking rates
The airport parking rates are affordable and the facilities are easy to use. A variety of payments are accepted by the airport to make payments easier. Santa Rosa airport gives the first two hours of both short and long term parking free. You start to pay after the first two hours are up. Both long and short term parking bill differently. A shorter billing system is applied to each of the lots.
Short term parking fees
Santa Rosa airport offers the first 2 hours free and charges $1 for every 30 minutes after that. $15 dollars is the maximum amount for 24 hours of parking. The short term parking fees translate to $2 dollars per hour.
Long term parking fees
The long term lots are divided into two parts A and B but the billing remains the same. The first two hours are offered free and 24 hours of parking is $13.
Special parking services
Special parking services are other parking services that Santa Rosa airport offers and that is different from the standard parking. The airport uses this to offer some perks to its customers for flying through it.
Pick-ups and drop-offs
Santa Rosa airport offers a charge-free zone where customers can be quickly and easily dropped off and picked up. It is located directly in front of the terminal. Unattended vehicles would be cited.
---
Santa Rosa Airport Parking Map
Parking name
Phone number
---