MacArthur Airport Parking
🅿 Book Parking Online NOW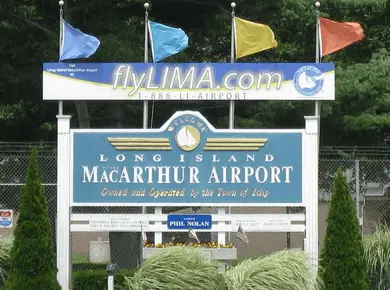 Long Island MacArthur Airport (LIMA) is a public airport in Ronkonkoma, New York.
This airport serves about 2 million passengers a year. LIMA is situated on 1,311 acres (531 ha) land. With 4 runways and 2 helipads. Serving Islip, Long Island, and environs.
The airport has a parking facility, with unique parking lots, each of which is affordable. In addition to the parking lots, there is also a cell phone parking lot, which is situated at the rear of lot 6B.
Parking may be for short term or long term. There is a system in place to allow the choice of the best parking lot, based on individual preference. All that is needed is to select the parking type and duration of parking.
Parking at Long Island MacArthur Airport affords travelers the assurance of the safety of their car, while they make their trip by air. MacArthur airport long-term parking is suitable for those who want to travel for a long vacation or another long-term basis.
Long Island MacArthur airport long-term parking rate is very affordable and secure.
Macarthur airport parking rates are customer friendly.
ISP Parking comes with lots of privileges. MacArthur airport parking provides different parking options at very affordable prices.
Please note that vendors do not take reservations. As for payment you can decide to go cashless and pay using your credit or debit cards. Nonetheless, airport parking can be paid by cash.
Long Island MacArthur Airport Parking Options
For those that want to pick up a passenger, the cell phone waiting area is a place to wait. It is always available for free access and is situated within the resident lot 6B, spanning from exit circle road, up to the 10th street. This area is well secured, but those with cars are to stay with their cars until their passenger calls them.
Short-term/Hourly Parking Lot
This parking lot is located across from the passenger terminal. Here cars can be parked only on an hourly basis.
Long-term/Daily Parking Lot
It is located right behind the short-term lot; cars can stay here for days, unlike the short-term lot.
In addition, there are 3 resident lots. These parking lots require a parking permit. They are located at lot 6, 6A and 6B (off the 10th street) and lot 6 west terminal.
MacArthur Airport Parking Rates
As regards the parking rates, it is dependent on the parking type. The commonly used parking types are the short-term/hourly, long-term/daily and economy parking. For those who want to spend less especially on long-term parking, they can choose the economy parking with a maximum charge of $15.50 every 24 hours.
The short-term/hourly parking goes for $3.75 per hour, and a maximum of $26 for 24 hours. Islip MacArthur Airport long-term parking rates are $17 per day and $4 per hour.
A free shuttle is available for those that use the economy parking, to and from the main terminal. The cell phone waiting area is free of charge. The handicapped travelers need to get a disabled parking permit. This permit grants them access to reduced parking rates.
---
🅿 Book Parking Online NOW
MacArthur Airport Parking Map
Parking name
Phone number
---