Lafayette Airport Parking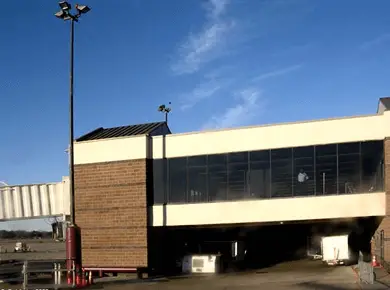 Lafayette Regional Airport (LFT) is a public airport located just a few miles south-east of Lafayette, in Lafayette Parish, Louisiana, United States. Even though Lafayette does not operate international flights, it offers most popular domestic destinations within the country, that are providing connecting services with airports all around the world. Delta Airlines, American Airlines and United Airlines are ready to offer their services at LFT, operating nonstop flights to Hartsfield–Jackson Atlanta Int, Georgia; George Bush Int, Houston, Texas and Dallas/Fort Worth Int, Texas. At least 18 domestic flights depart from LFT every day. Like this, around half a million passengers can enjoy the safe, fast and comfortable way of traveling every year.
Lafayette Regional Airport is doing their best to provide all customers with most pleasant traveling experience. Just recently renovated two-story terminal building is constructed in a way to give their customers the very best traveling experience. The airport welcomes outside organizations and business travelers to utilize its business center as well as conference rooms on sight for conferences, meetings, receptions and events. There are two rooms available for rent: the sub-conference room (20 persons max) and the main conference room (50 person max). The business center is located on the second floor and offers free PC terminal usage, free local calls and charging stations as well as comfortable seating. Free Wi-Fi is also available throughout the airport. The food and beverages are presented at the new restaurant & bar "Acadiana Tap House". You can order a full course meal or grab a take-out order or even order on the fly. For passenger convenience, in-terminal LED signs and pointers provide notices in three languages: English, Spanish and French. The terminal is open from 3:30 am until the last flight of the day.
Lafayette Regional Airport Parking
Lafayette LA airport parking offers daily, hourly and economy parking options. The Short term parking lot is located right in front of the terminal entrance. It is the closest and most convenient option for short trips. If you are planning to go on a long-lasting trip, then Lafayette airport Long term parking lot is a better option. It is also referred to as the Economy lot. It is located right behind the Short-Term lot and can be easily reached on foot. Covered walkways are connecting the terminal building and all the parking lots to make this brief walk more pleasant and comfortable. You don't have to worry about finding a free spot to park as Lafayette airport parking offers around 800 parking spaces.
Lafayette Airport Parking Prices
Lafayette airport parking fees begin after the first 30 complimentary minutes. Yes, all the parking lots are free to use for the first 30 minutes of entry. The Short term parking lot rates $1 for 31-60 minutes of parking, and $1 per each additional 30 minutes up to 3,5 hours. Staying up to 4 hours rates $11 and the maximum daily rate is $12. Lafayette airport economy parking rates $2 for 31-60 minutes of parking, and then $2 per each addition hour up to daily maximum rate of $9.
---
Lafayette Airport Parking Map
---