La Guardia Airport Parking
🅿 Book Parking Online NOW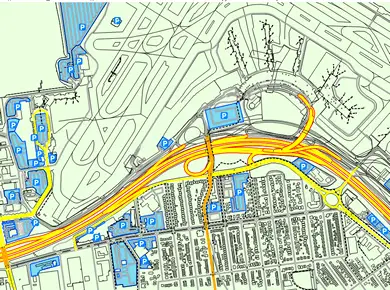 Named for Fiorello La Guardia, the mayor of New York when the airport was built, La Guardia Airport is one of the busiest airports in the country.  It is the third busiest airport in the state of New York after John F. Kennedy and Newark. These three airports combined together, is the largest airport system in the country. In 2016, La Guardia Airport handled more than 29 million passenger movement. It is served by 16 air carriers some of which provide air shuttle services to major cities in the east coast.  The airport has 4 terminals and each one has a parking facility.  Because parking can be confusing especially during the peak season, our staff can assist in easy airport car parking, select amenities and calculate cost.
La Guardia Airport Parking Options
The airport offers offers hourly, daily and long-term parking. La Guardia Long Term Parking is available closest to Terminal A which also has an uncovered daily parking facility. Daily parking is offered in terminals B, C, and D. Hourly parking is offered in the C and D terminals wait area.
Because construction is going on at the airport, parking at La Guardia is limited at the moment. But not to worry, there are parking garages and lots within a few minutes from the airport, most of which are fully-secured 24/7 parking facilities featuring amenities and services such as free shuttle service to and from the airport, baggage assistance, car wash and car maintenance. To know more about your parking options, consult with our professional staff.
La Guardia Airport Parking Rates
Hourly parking at La Guardia for terminals A, B, C, D costs $5 for half an hour, and $39 per day in the long-term Economy Parking Lot, after which $13 is charged for each additional 8 hours thereafter. Off-site parking facilities rates starts at $12 for two hours, and some of these garages offer discounts for online booking, prior reservation, and parking deals. Do not make the search for the perfect parking spot a headache. By consulting with our professional staff, you are guaranteed to find that spot without having to burn a hole in your pocket!
---
🅿 Book Parking Online NOW
La Guardia Airport Parking Map
---