Kalamazoo Airport Parking
🅿 Book Parking Online NOW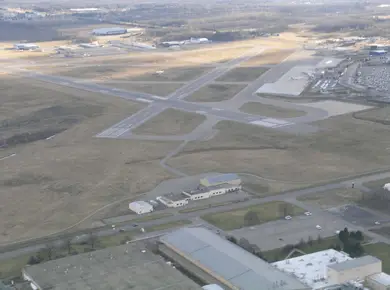 Kalamazoo/Battle Creek International Airport (AZO) is a public airport, located just south-east of Kalamazoo and west of the Battle Creek City, Michigan, USA. Three main airlines that operate in Kalamazoo airport are the American Eagle, Delta Connection and United Express. Kalamazoo Airport is very popular among local pilots, due to the arrangement of rentable hangars and flight training programs. AZO has been the main base for Western Michigan flight school practice flights till around 2000, but nowadays any party can offer private pilot lessons. It doesn't matter if you want to learn to fly for a career or just simply obtain a license to take your family and friends for a ride, you will find equally professional flight training.
The main terminal is a two-story building, constructed from ground zero and opened in 2011. The first floor includes check-in desks, baggage claim area and ground transportation services. While the second floor holds the waiting area, restaurant, business center, rental board room, gift shops, and 5 gates. Be aware, that there are no duty-free shops in the terminal. Free Wi-Fi is available across the airport to help you pass the time, as well as charging stations (near the business center). The terminal operates daily from 4:30 am till the last scheduled flight.
Kalamazoo Airport parking
Kalamazoo Airport car parking options are very convenient. There are two options available: the Short-Term parking lot and the Long-Term parking lot. Both are outdoor parking type lots that are located right across the terminal building. Parking in front of Kalamazoo Airport is limited to unloading passengers and their luggage or picking up ready to go passengers.
Parking at Kalamazoo Airport is also valid for aircraft parking. Airports hangar complex offers rentable hangars for those who might be interested. Many private pilots who operate for personal reasons, tourism, business, or any other, prefer to keep their airplanes in local hangars. Prices variate from $165 to $915, depending on inclusive terms like electricity, maintenance, annual inspections and so on.
Kalamazoo Airport parking fees
The short-term parking starts at $2 per 30 minutes, up to a daily rate of $15.
Kalamazoo Airport long-term parking price starts at $4 per 1 hour, up to a daily rate of $9.
Kalamazoo Airport parking rates also offer a weekly payment of $63 (Long –term parking only).
Parking fees can be paid up with all the major credit cards, as well as
How to get to Kalamazoo Airport?
There is a metro transit route №12, that operates near the airport (except weekends). A marked and easily spotted bus stop is located right in front of the terminal. You can also rent a car, with the convenient onsite rental agencies that are located right next to the parking lots.
---
🅿 Book Parking Online NOW
Kalamazoo Airport Parking Map
---