Dallas Love Field Airport Parking
🅿 Book Parking Online NOW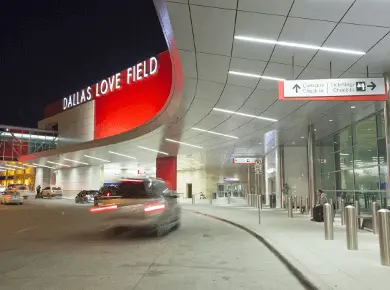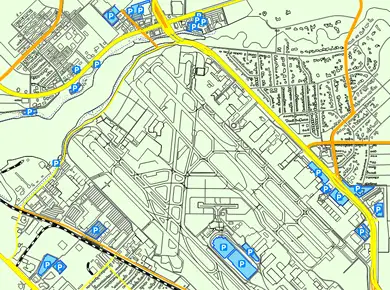 Named in honor of Lieutenant Moss Lee Love, the eighth aviation officer to be killed and the 10th fatality in Army aviation, Dallas Love Field Airport used to be the main airport of the Dallas area until Dallas/Fort Worth International Airport officially opened in 1974. It is located about seven miles from downtown Dallas and is a Texas State Historical site. The airport is where the corporate headquarters of Southwest Airlines is located, and is also served by Delta and Virgin America. At the moment, the airport is undergoing construction including the expansion of its parking facilities which is envisioned to be completed in 2018. As such, Dallas Love Field parking can be a problem especially during the peak season and holidays, and through our website, you can choose from a variety of parking services, select amenities, and calculate costs for hassle-free parking.
Love Field Airport Parking Services
The airport offers three parking options. The Parking Garage A is ideal for hourly and short term parking. Parking Garage B has cheaper rates and ideal for Love Field long term parking. Dallas Love Field Valet Parking is another option if you are in a hurry, and the lot is restricted to valet parked cars. For motorists waiting for the arrival of their passengers, the airport has a Cell Phone Waiting lot, a free parking area where motorist can park for a limited time.
There are a number of car park operators that are near the airport or in the city which are alternatives to parking at Love Field. The Best Parking Love Field car park is an option that the airport recommends with more than 600 parking spots to choose from. We can provide you with a list of car parks where you can select amenities, and calculate costs.
Dallas Love Field Parking Rates
Parking Garage A rate starts at $4 for 30 minutes to an hour of parking, and $17 for 5 to 24 hours of parking. Parking Garage B rate starts at $3 for 30 minutes to an hour of parking, and $13 for 5 to 24 hours of parking. Valet Parking rate starts at 8 an hour, and $24 for 5 to 24 hours of parking. For offsite parking spots, daily parking rate starts at $10.95 with special rates for prior reservation and weekly parking.
By providing you with choices, we guarantee that you get the best parking service with the lowest rate possible so you can enjoy more savings and a stress-free trip!
Dallas Love Field Airport Parking FAQs
How Much Does It Cost to Park at Love Field Airport?
According to the official website for Love Field Airport, the current parking rates are as follows: 
$2 per hour for Terminal 1 Daily Parking Lot 
$10 per day for Terminal 2 Garage Parking 
To get an estimate of how much it will cost to park at Love Field Airport, simply multiply the number of hours you'll be parked by the appropriate rate. So, if you're planning to park in the Terminal 1 Daily Parking Lot for 5 hours, it will cost you $10 (5 x $2). Easy!
What Is Short-Term Parking at Love Field?
The short-term parking lot at Love Field is located on the east side of the airport, just south of Dallas Parkway. The lot has both covered and uncovered parking spaces, and it's open 24 hours a day.
The cost for parking in the short-term lot is $2 per hour, with a maximum daily rate of $16. There is also a $5 fee for each additional day after the first day. Payment can be made by credit card or cash, and there are change machines on-site.
Does Dallas Love Field Have Remote Parking?
Yes, Dallas Love Field does have remote parking. This can be a great option for those looking to avoid the hustle and bustle of the airport terminal. Additionally, it may suit those who are traveling with large amounts of luggage or heavy items. When using remote parking, travelers should allow plenty of time to catch their flight. Depending on the distance from the terminal, it may take up to 20 minutes to walk to your boarding gate.
Does Dallas Love Field Have Valet Parking?
No, Dallas Love Field does not have valet parking. You will need to find street parking or park in one of the many available parking lots. Valet services are not available at this time.
---
🅿 Book Parking Online NOW
Select Dallas Love Field Airport Parking filter:
Dallas Love Field Airport Parking Map
Parking name
Phone number
---