Long Term Parking at CPT
🅿 Book Parking Online NOW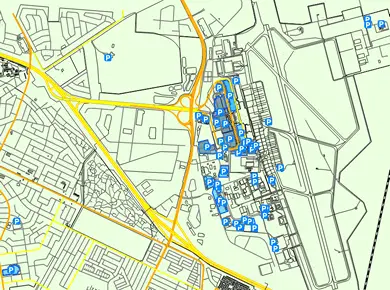 Like many other airports, Cape Town airport serves for millions of customers annually. Both, tourists and citizens, sometimes need a good long-term parking for their vehicles. It becomes a pressing challenge to find well-arranged parking space and not to spend much money on the service.
Long-term parking is easier than you think
In truth, there is no need to make so much havoc of finding long-term parking zone. Two common solutions are parking in Cape Town airport car park or leaving a vehicle not far from it. Of course, drivers often cross fingers to choose the best place but, at the same time, to save money. Let's consider some tips how to park a car for long time near the airport.
Private parking zones
Chances are that you will quickly find a convenient spot in a private garage. Private parking zones have a lot of advantages comparing to the airport garage. First of all, they have high security level, so you don't need to worry about your car. Security staff is represented by special patrols who control parking area 24/7. In addition to this, private parking zones are often equipped with cameras and other systems to keep the area and your vehicle safe.
Moreover, nowadays more and more private garages offer complimentary car wash. Admit it, it's a good idea to provide additional service for free. But, it isn't the only benefit because privately-owned parking areas also have affordable prices.
Complimentary free parking in hotels
Most hotels usually have the experience of complimentary free or discounted parking. That's really a perfect solution for long-term parking, when you also need a hotel stay. That's why, while booking a room, always ask about parking facilities and discounts or special offers available. This will give you more chances to save money and leave your vehicle in a covered garage.
Rates for long-term parking in Cape Town airport
The airport has special covered long-term parking area. It also provides security staff for safe vehicle stays and convenient car arrangement. Long stay price is the following:
0-5 days - R545

0-6 days - R270

0-7 days - R315
Every additional day after this period will cost R45 per day.
---
🅿 Book Parking Online NOW
Select Long Term Parking at CPT filter:
---