Long Term Parking at CBR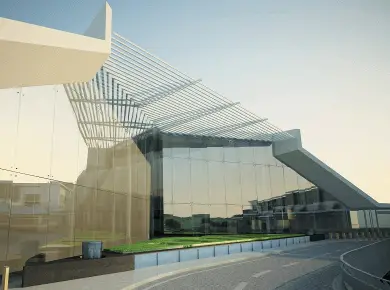 Canberra airport opens doors in front of hundreds of passengers every day. The airport has long and interesting history of development and nowadays it's one of the most fast emerging airline hubs in Australia. The airport provides high-grade services to its customers, including parking facilities. Canberra airport long-term parking is represented by well-spaced spots within short walking distance to terminals.
Canberra airport long-term parking facilities
Canberra airport offers well-equipped car parks with all necessary conditions. As in many other parking zones, a driver can choose between covered and uncovered places. Covered garage includes 1000 spaces and has a multi-level structure.
Moreover, the airport is proud of its special parking system allowing to see the exact number of vacant parking lots at each level. Covered parking garage is located near the airport terminal, so it won't take long for a passenger to walk to a departure zone. Canberra long-term parking facilities also include outdoor spots. There are two uncovered parks in the airport, each of them includes 450 spots.
Canberra airport long-term parking fees
Speaking about Canberra airport long-term parking fees, it's important to mention that pricing options depend mostly on a garage type. Let's dive in. The average price for one day stay in the covered garage is $30. Thus, leaving your vehicle for more than a week will cost you approximately $160, including discounted price after 4 days stay.
Uncovered parking space price is lower. If you want to book an outdoor spot for a week, for example, you need to pay almost $140. Canberra airport also has special offers for long-term parking services, so called long stay specials. According to these specials, a traveler can rent a spot for up to 60 days for $390 (covered garage). Uncovered spot costs $350 for this period.
Off-airport long-term parking
If to consider alternative long-term parking options, it should be mentioned that private parking zones are also a great solution. Some travellers find reasonable prices for parking spots provided by local parking companies. There is a variety of parking service providers in the city who offer high-grade conditions for cars but don't overprice the service.
Another cost-efficient solution is complimentary free or discounted parking in hotels near the airport. You can't even imagine how much money you can save using hotels' parking garages! It often happens that hotels are ready to provide parking lots for their guests, even if they book one night only.
---
Select Long Term Parking at CBR filter:
Long Term Parking at CBR Map
---