Baton Rouge Metropolitan Airport Parking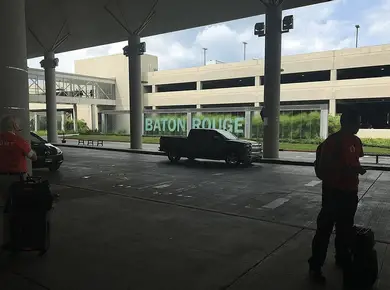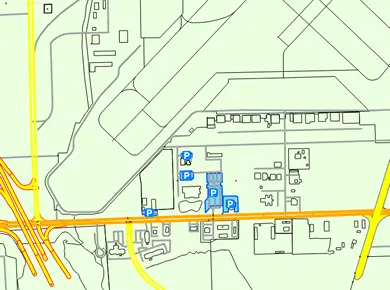 Baton Rouge metropolitan airport or BTR, otherwise known as Ryan Field, is a public use airport in East Baton Rouge Parish, Louisiana, United States. Such airlines as American Eagle, Delta Air Lines, Delta Connection, United Express, ViaAir and others operate charter and scheduled flights to and from Baton Rouge airport. Atlanta, Dallas, Houston and Charlotte (North Carolina) are the most popular BTR domestic routes. Airport operates roughly 800,000 passengers every year. The Baton Rouge airport includes only one Terminal and three runways.
Baton Rouge Airport Parking Options
Reaching BTR airport parking is as simple as crossing the road. Literally. All the parking places are just in front of the Terminal. Recently BTR even reached the top 5 small-hub airports ranking in USA for "ease of accessing parking". You don't need to walk long distances or look out for shuttle buses, you can simply walk to your car upon arriving. BTR parking offers a choice between Garage parking and Economy Parking. Parking lots are accessible 24/7 and offer high-level security services. Surrounded with tall fences and surveillance cameras everywhere, your car will stay in good hands. If there is a need, parking assistant can provide you with any necessary attendances, such as tire inflation, tire change, lost car assistance, vehicle escort and dispatch services. Payment is accepted with all the major credit cards as well as cash.
Baton Rouge Airport Parking Rates
Garage Parking is a covered parking facility that charges $1 per 30 minutes or $12 per day.
Economy Parking offers parking lot for $2 per hour or $9 per day.
When choosing a parking spot in BTR you'll have to decide whether you wish to park in the front of the parking lot, or at the rear of it. The far side costs less, but it also takes a bit more time to get to the terminal. On the other hand, front spots provide you with almost direct access to the terminal. While booking try to make sure to let the stuff know if you have elder or very young passengers or passengers that need a wheel chair or any other aspect that might give you the closest parking spot. You don't want to walk across the whole parking lot or force your companions to do so if you wish to avoid it.
Make your airport parking reservations in Baton Rouge Airport today, and get your vacant spot and decent discount upon arriving.
Easy Parking Guide
Our easy car parking guide is simple to use. Just type in your country, city or airport and you'll be taken to a page with a complete description of the facility. You choose whether you need parking for a car, motorcycle, or bike and whether you'll need a child seat or shuttle bus. We provide you with a complete list of options, beginning with the lowest price. Our map displays all your parking options clearly, as well as their distance to the airport. If you are flying internationally, you can also find international airport reserved parking.
Calculate Cost
Each travelers' needs are unique, and there are many different amenities to choose from when it comes to airport car parks. Important things to consider are whether airport car parking facility has baggage assistance available, a travel agent on hand, valet parking available, and whether or not the lot is secure. You'll also want to know whether the lot offers indoor or outdoor parking or both. Other amenities that may be available include car rental services, CCTV, car wash services, and 24-hour availability. Our system allows you to compare available parking spaces by amenities to ensure the airport parking lot you choose has everything you need.
Having Problem?
Our easy parking guide lets you immediately calculate the cost of your airport car park space too. Once you have compared all spaces that are available, choose the one that is right for you and our system immediately calculates the cost. It's one less thing you have to be concerned with at the airport, and you'll have peace of mind knowing there's a reserved parking lot waiting for you, as well as exactly what your parking costs will be.