Wilmington Airport Parking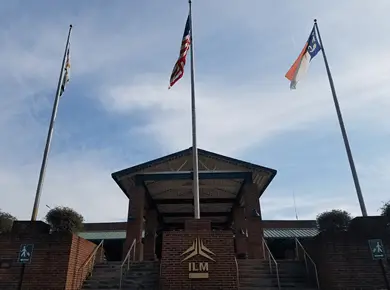 Wilmington International Airport (ILM) is a public airport located just a few miles north of Wilmington, North Carolina, New Hanover County. Wilmington International is providing flights to eight destinations: Atlanta (ATL), Boston (BOS), Charlotte (CLT), Chicago O'Hare (ORD), Dallas Fort Worth (DFW), New York City (LGA), Philadelphia (PHL), Washington DC (DCA) and Washington Dulles (IAD). The airport operates more than 1 million passengers and around 3 million lbs. of cargo annually.
Wilmington Airport terminal provides all the necessary services. The design of the terminal covers food and beverages available for both pre- and post-security areas, as well as gift shops and news kiosks. Free Wi-Fi is a complimentary gift for all the ILM's guests. To start, simply use the "Fly ILM" network.
If you are traveling with a pet, you might find useful a specially designated area for the comfort of your traveling pet. The pet areas are located to the left and right of the airport entrance in the grass area. Please note that pets are not allowed inside the terminal, except for the service animals.
You can find two ATMs at the airport. The pre-security ATM is located behind the Information Desk and the post-security ATM is located to your right after entering. The terminal is operating 24/7.
Wilmington International Airport Parking
Wilmington airport parking offers six options for you to choose from. The Hourly parking, Main Daily, North Daily, Premium Daily, Standard Daily, and Economy Daily (Long Term) lots. Not taking into account the Cell Phone Lot and a separate Employee parking lot, which greatly reduces travelers' parking load. The most convenient option is the Hourly lot, as it is located right in front of the terminal. The Main Daily lot is located right behind it and takes up to a few minutes to get there. North, Standard, and Premium Daily lots are located around the big main lot in the center. Wilmington Airport Long Term parking lot is located a little bit further, behind the Standard and Premium Daily lots. All the Wilmington NC Airport parking lots include handicap parking. Please note that no Wilmington Airport parking garage is available, all the lots are outdoor type only. If you are looking for a garage option with cleaning or vacuuming services included, you might consider searching for parking near Wilmington Airport. You can easily find all the parking information on our website.
Wilmington NC Airport Parking Rates
Wilmington Airport parking rates start after the first free 30 minutes. The next 30 minutes (31-60 minutes) cost $1. Every additional hour is $1 each. Hourly parking lot maximum daily rate is $24. The Daily parking lot charges $10, North Daily lot - $12, and the Standard Daily lot - $10 per 24 hours. The cost of Long Term parking at Wilmington NC Airport is $8 per day.
---
Wilmington Airport Parking Map
---