Will Rogers Olkahoma Airport Parking
🅿 Book Parking Online NOW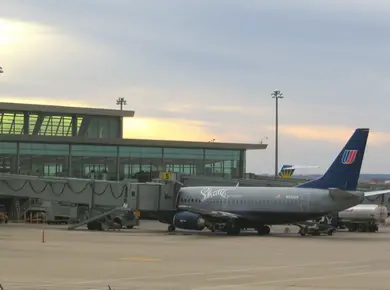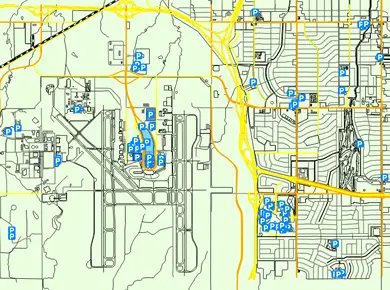 Will Rogers World Airport or OKC, otherwise known as Will Rogers airport, is both civil and military airport near Oklahoma City, Oklahoma, United States of America. OKS is the major busiest commercial airport in Oklahoma. The airport handles more than 4 million passengers annually, together with roughly 120 thousand of aircraft operations. Will Rogers airport includes three-storey terminal building with 17 Gates and three runways. Main terminal divides into two concourses: the west concourse includes Gates 1-12, while Gates 14-24 are at the central concourse. You can find baggage claim area at the ground level, while bars, restaurants, and gift shops are located on the upper levels.
OKC Airport Parking
Will Rogers world airport parking offers three parking Garages A, B and C; tree outdoor parking lots 1, 2 and 3 plus two Cell Phone areas. Garages are situated one after another, which makes them really easy to access, due to the first one location is just across the main terminal. Garages A upper level provides short-term parking spots in OKC, while the ground level is dedicated to "ready-return" services of car rental agencies. Garages B and C offer five-storey buildings of parking spaces, while being connected through multiple bridges on each level. Outdoor Lot 2, also known as shuttle parking is located right behind the Garage C. Lot 1 is located separately, just a few minutes of shuttle bus ride away from the terminal. Lot 3 is a semi-covered shuttle parking, that is situated west of the parking Garage C. Airport shuttle bus service operate though all three lots, 24 hours a day, 7 days a week, and absolutely free. Both Cell Phone are conveniently situated parking near OKC airport, offering free parking spaces for those drivers who only came to wait for the arrivals. Please note that no commercial or unattended vehicles are allowed on this lot, all unattended vehicles will be towed away with further expanses. Will Rogers parking lots are open 24/7. OKC airport parking fees are listed below together with OKC airport parking coupons.
Will Rogers Airport Parking Fees
Will Rogers airport parking rates $9 per day at every Garage building. Garages Hourly Parking is free for the first hour and costs $1 per each additional hour up to daily maximum of $24. Lot 1 costs $5 per day. Lot 2 costs $6 per day. Lot 3 costs $7 per day. Don't forget to use the Will Rogers airport parking coupons to save even more money.
Parking near OKC airport
If you are interested in off-airport parking, take a look at nearest Oklahoma City airport hotels. Wingate by Wyndham Oklahoma City Airport, Howard Johnson by Wyndham Oklahoma City Motel, Governors Suites Hotel, Days Inn by Wyndham Oklahoma City/Moore, Super 8 by Wyndham Oklahoma Airport Fairgrounds West Motel and others. These hotels offer free parking spaces for their customers as well as shuttle bus service that will take you to the airport and back for free 24/7.
Will Rogers Olkahoma Airport Parking FAQs
How Much Does It Cost to Park at OKC Airport?
The cost of airport parking at OKC depends on the type of parking spot you choose. 
The Short-Term Parking Lot charges $2 for the first hour and $1 for each additional hour, up to a maximum of $10 per day. 
The Long-Term Parking Lot charges $7 per day. 
The Valet Parking Lot charges $13 per day. 
Whichever option you choose, it is important to keep in mind that OKC Airport parking fees are subject to change, so it is always best to check the website or call ahead for the most accurate pricing information.
How Busy Is the Oklahoma City Airport?
The Oklahoma City Airport is a busy place, with over 6 million passengers passing through each year. This airport is the state's busiest, handling both domestic and international flights. In terms of domestic flights alone, the OKC Airport ranks as the 25th busiest in the United States. 
In addition to being a hub for air travel, the Oklahoma City Airport is also a major cargo hub. The airport ranks as the 12th busiest cargo airport in North America and handles over 400,000 tons of cargo each year. 
So, if you're looking for a busy and bustling airport that can get you where you need to go, then the Oklahoma City Airport is the place for
How Much Is Long-Term Parking at OKC Airport?
The long-term parking rate at Will Rogers World Airport (OKC) is $7.00 per day. The airport offers a discount for parking longer than 10 days, which brings the cost down to $6.00 per day.
The airport offers both covered and uncovered parking, with the majority of spots being undercover. Curbside parking is also available for an additional fee. Handicapped-accessible spots are available in each lot, and all spots are well-lit and secured.
Is There Free Parking at OKC Airport?
There are a few options for parking at OKC Airport. The first is the short-term lot, which is located just past the terminal on the left. Rates are $2 for the first hour and then $1 per hour after that, with a maximum of $10 per day.
The long-term lot is also located just past the terminal on the left and offers rates of $7 per day or $30 per week. The long-term lot also features an electric car charging station.
Finally, there is a remote lot located 3 miles from the airport which offers free parking and shuttle service to and from the terminal building. 
 
---
🅿 Book Parking Online NOW
Will Rogers Olkahoma Airport Parking Map
---