Westchester County Airport Parking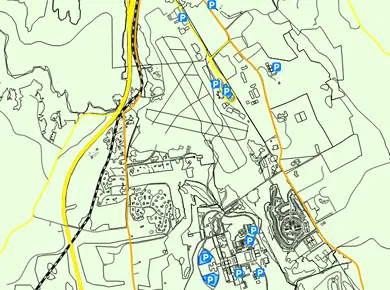 Westchester County Airport (HPN) opened in 1945 after it was returned to Westchester Country after it was used by the United States Army during World War II. It was not until three years later that the that the first commercial flight took off from the airport. In 1952, the United States Air National Guard maintained a base at the airport for reserve training and transportation missions until 1983 when the unit transferred to Stewart Airport. Since then, it has played a significant role in the development of Westchester Country, New York. The airport became a hub of discount airlines in 2005, and by 2012, the airport was handling more than a million passengers annually. The airport is served four scheduled passenger airlines which has non-stop flights to many US cities with connections to worldwide destinations.
The airport has one terminal and a parking garage both of which are open 24 hours. The parking garage can get full especially during the peak season, and for more information about the airport and it parking facilities, our staff will gladly assist you for easy airport car parking, select amenities and calculate cost.
Parking at Westchester County Airport
There is only one parking garage located adjacent to the main terminal building. An overflowing lot which is also used for Westchester County airport long term parking is located less than half a mile from the airport. Shuttle service is provided to transfer passengers to and from the overflowing lot and the airport.
The Airport is located about 6 miles from the central business district of White Plains where there are a number of parking garages and lots. Most of these are well secured parking spots, from which you can take a quick cab ride to the airport. To help you decide which is a better option, our friendly staff will gladly assist you.
HPN Parking Rates
Parking at the airport costs $3.60 per half hour, $7.20 per hour, with a maximum of $30.00 per calendar day. Parking in White Plains starts at $2 per two hours, and some of the parking garages offer daily, monthly and even quarterly rates. Enjoy your trip out of Westchester Country Airport without any parking hitch by consulting our friendly staff who can help you compare costs and select amenities for your parking needs.
Easy Parking Guide
Our easy car parking guide is simple to use. Just type in your country, city or airport and you'll be taken to a page with a complete description of the facility. You choose whether you need parking for a car, motorcycle, or bike and whether you'll need a child seat or shuttle bus. We provide you with a complete list of options, beginning with the lowest price. Our map displays all your parking options clearly, as well as their distance to the airport. If you are flying internationally, you can also find international airport reserved parking.
Calculate Cost
Each travelers' needs are unique, and there are many different amenities to choose from when it comes to airport car parks. Important things to consider are whether airport car parking facility has baggage assistance available, a travel agent on hand, valet parking available, and whether or not the lot is secure. You'll also want to know whether the lot offers indoor or outdoor parking or both. Other amenities that may be available include car rental services, CCTV, car wash services, and 24-hour availability. Our system allows you to compare available parking spaces by amenities to ensure the airport parking lot you choose has everything you need.
Having Problem?
Our easy parking guide lets you immediately calculate the cost of your airport car park space too. Once you have compared all spaces that are available, choose the one that is right for you and our system immediately calculates the cost. It's one less thing you have to be concerned with at the airport, and you'll have peace of mind knowing there's a reserved parking lot waiting for you, as well as exactly what your parking costs will be.