Washington Dulles Airport Parking
🅿 Book Parking Online NOW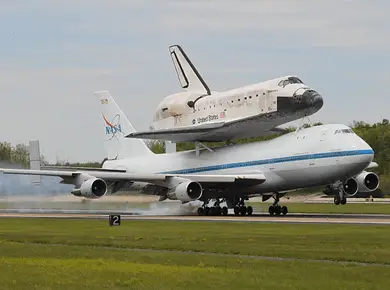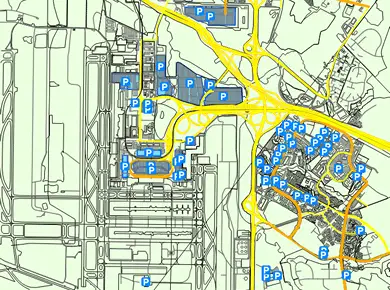 Washington Dulles International Airport or IAD is a public airport, situated in Dulles, Virginia, United States of America. IAD serves Washington metropolitan area. The airport handles almost 3 million passengers and 260 thousand aircraft operations annually. Washington Dulles provides over 138 non-stop flights worldwide, also it offers travelers 35% more non-stop destinations than the rest of the airports in Baltimore-Washington region, with 83 non-stop domestic and 55 non-stop international destinations. The airport includes one main terminal building with two midfield terminal buildings: Concourses A/B and C/D. All non-United flights operate out of the concourses A and B (47 gates). Concourses C and D are exclusively used for United Airlines flights. The total amount of gates in Dulles airport is 123! IAD offers a great variety of services and amenities, starting from free Wi-Fi connection and charging stations to kids play areas, pet areas and interfaith chapel in concourse A. Also don't forget about huge variety of cafes, restaurants and duty free shops.
Washington Dulles International Airport Parking
Washington Dulles Airport Parking includes several parking options, which are: Valet parking, Terminal Hourly Lot, Terminal Daily Lot, Economy Lot, Garage 1 and Garage 2. Valet parking lot is located in departures zone 3, departures level curb. The drop-off place is located right next to the airport entrance. Valet parking is operating from 4:00am to 10:00pm. The outdoor surface Terminal lots are the closest self-parking options, as they are situated right across the main terminal building. Garage 1 is located behind the Terminal lots, just a few minutes away from the terminal trough the underground pedestrian walkway, but worry not, as free shuttle bus service is there for you. Garage 2 is located just north-west of the terminal building and can be easily accessed via pedestrian walkway and shuttle bus. Both Garages include five floors with 4 covered floors and uncovered top floor. IAD parking garages have high-tech automated space counting system, that indicates how many open spaces are available on each level. The Economy lot is situated a bit further away, next to the Route 28 airport exit. It is divided into two zones: Blue and Green lots. Free shuttle bus service is available 24/7, circulating between Economy lot and Terminal each 10 minutes. IAD parking options also include Cell Phone Lot. This is a free parking option specially designed for drivers that are waiting for the arrivals. Don't forget about preparing Washington Dulles airport parking coupons beforehand.
IAD Parking Fees
Valet IAD daily parking fee is $35, adding $10 per hour up to daily maximum of $35 each following day. Both Garage IAD parking rate $6 per 1 hour and $17 per 1 day. Terminal IAD parking long term rates are $6 per 1 hour and $22 per day, short term daily rate is $30. Dulles economy parking costs $10 per 24-hours, no hourly rates available. You may find IAD parking coupons and IAD economy parking coupons to lower the parking price even more!
---
🅿 Book Parking Online NOW
Washington Dulles Airport Parking Map
---