Ronald Reagan Washington Airport Prking
🅿 Book Parking Online NOW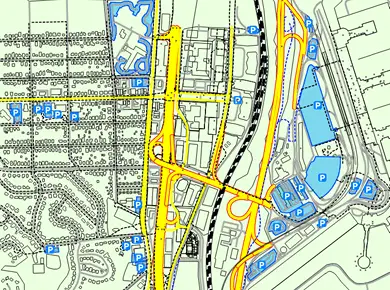 Ronald Reagan Washington national airport is used for flights to domestic and international directions. It can accommodate many passengers and provides various kinds of services to them. Of course, parking at Washington Reagan airport is among them. You can reserve your parking place online or book a lot on-site if necessary. Let's consider parking services and their prices.
Facts about Washington Reagan airport parking
We all know the feeling when we need cost-efficient parking in an airport. The majority of us want to leave a car in a covered place not far from an airport. So, let's see what Washington Reagan airport can offer. First of all, the airport has 4 parking places that suit particular travellers' needs. For example, a garage located close to Terminal A is oriented mostly towards people who are flying from this terminal. The same thing goes with garages in Terminals B and C.
Parking at Reagan national airport (Washington DC) also offers an economy parking lot. It is a good solution because parking isn't the thing we want to spend much money on. Usually, economy parking makes people more confident about their budget. Economy lots are available for all airlines. The next option - Cell Phone Waiting Area. It can be used for up to 1 hour, for instance, when a driver is waiting for a passenger.
Washington Reagan airport parking rates
Washington Reagan airport parking rates can significantly influence people's decision on a place for leaving a car. Be sure that most airports offer quite high prices. Look at these prices: Terminal B/C Garages - $6/hour, $25/day. If to consider the garage in Terminal A, its price is the same as for Terminal B/C Garages. An economy lot will cost a traveller $17/day.
To park a car, a driver needs to get a special ticket. One can use machines that make this process automated. Another way to pay for parking services is to use a credit card. It simplifies the procedure and saves time because you don't need to "play" with a machine to get a ticket. But, remember that it is always important to consider off-airport parking, you can do this using our website.
---
🅿 Book Parking Online NOW
Ronald Reagan Washington Airport Prking Map
---