Trenton Airport Parking
🅿 Book Parking Online NOW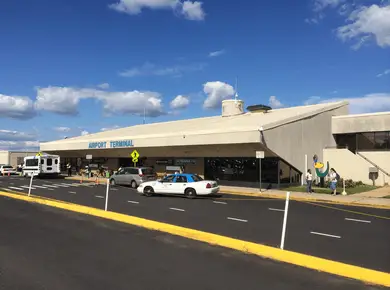 Trenton Mercer is a county-owned airport located on the north-western side of Trenton. The airport, which was formerly known as Mercer County Airport is New Jersey's third busiest airport with more than 230 aircrafts operations in a day. It is also the fifth fastest-growing airport in the United States. A report from the U.S department of transport indicated more than 840,000 passengers used the airport between May 2018 and April 2019.
Parking lots available at Trenton mercer airport
Parking at Trenton airport is a fast and easy process. The airport offers three convenient parking lots. These lots allow passengers to walk to the passenger terminal in less than five minutes. Two of the parking lots are just a few miles from the terminal building. These lots provide between 1,100 and 1,500 parking spaces. The Trenton airport parking prices depend on your parking period. Both short term and long term parking at Trenton Mercer Airport are available.
The third parking lot offers overflow parking to accommodate the increase in the number of users. This lot is opposite the general aviation section of the airport and you can use a free airport shuttle to get to the terminal building. The shuttles operate at intervals of 8 to 12 minutes starting two hours before a flight and an hour after the arrival of a plane. All the lots are patrolled by the Mercer County Sheriff's Office. 
Trenton Mercer Airport Parking
Trenton mercer airport parking lots are automated 24 hours. Once you are about to enter a paid lot, take a ticket and the gate will open. Ensure that you keep the ticket safe. With the ticket, the automated machine will know how much you owe before leaving the lot. You can pay the parking fees using a credit card at the exit gate. If you want to pay with cash, visit the kiosks situated in the baggage claim or the terminal. You can also use your credit cards at these points. The entrance ticket is inserted in the exit or pay station to pay the parking charges. If you need further assistance, just press the INTERCOM button.
Here is a comprehensive guide to help you in parking at Trenton mercer airport
·       Stop at the entrance gate and push the green bottom to retrieve the entrance ticket
·       Find an available space to pack your vehicle and take the entrance ticket with you
·       After returning from your trip, go to your vehicle and drive it to the exit lane
·       Insert the entrance ticket at the exit station
·       Follow the issued instructions and swipe your credit card
·       The machine will authorize your payment and raise the exit gate
·       Push button for a receipt
Cash payment
If you want to pay with cash, you will still follow the above process but once you return from your trip;
·       Go to the payment machines located in the terminal or baggage claim area.
·       Insert the entrance ticket in the machine and your payment amount will be displayed
·       Follow the machine instructions and make your payment
·       Retrieve the paid ticket from the machine
·       Push button to obtain a receipt
·       Return to the parking lot and drive your vehicle to exit lane
·       Insert your paid ticket into the entrance station
·       The gate will raise and you can exit the facility 
Trenton Airport Parking rates
Trenton Airport Parking charge depends on the type of parking you need. Travelers pay $8 per day for Trenton Airport long term parking. If you need short term parking, you will pay $2 per hour for up to 4 hours.
Trenton Airport Parking FAQs
How Much Does It Cost to Park at Trenton Airport?
The cost of Trenton Airport parking depends on the length of time you are parked. Short-term parking is $2 per hour, and long-term parking is $18 per day.
How Many Gates Does Trenton Mercer Airport Have?
Trenton Mercer Airport has two gates. A gate is essentially a waiting area for passengers prior to boarding their airplane.
The airport is serviced by two airlines: American Eagle and United Express. American Eagle offers flights to Charlotte, Dallas-Fort Worth, Miami, and Philadelphia. United Express offers flights to Chicago O'Hare International Airport and Washington Dulles International Airport.
What Airlines Fly Out of Trenton Airport?
There are three airlines that fly out of Trenton Airport: American, Delta, and United. These airlines offer direct flights to a number of destinations within the United States, including Atlanta, Chicago, Dallas/Fort Worth, Miami, and New York City.
How Busy Is Trenton-Mercer Airport?
The airport is moderately busy, serving around 1.2 million passengers annually. The busiest times of the year are generally in the summer and winter, when vacationers and holiday-goers are traveling. The airport has a variety of amenities to make your wait more comfortable, including several restaurants, a bar, a newsstand, and a few shops. There is also a play area for children.
Is Trenton NJ Airport Safe?
The Federal Aviation Administration (FAA) recognizes Trenton–Mercer Airport (TTN) as a commercial service airport. It was built in 2007, which is relatively new for an airport. Its runways are also in good condition. In general, newer airports and those with well-maintained runways are safer than older ones.
The nearest large city to TTN is Philadelphia, about 40 miles (64 kilometers) away. The drive from Philadelphia to TTN is about an hour in good traffic conditions. Mercer County, where TTN is located, has a population of just over 375,000 people. That's much smaller than Philadelphia's population of 1.5 million people.
---
🅿 Book Parking Online NOW
---