Tallahassee Airport Parking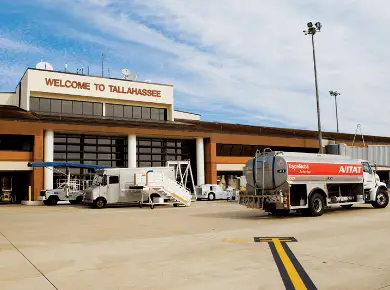 Located five miles southwest of downtown Tallahassee, Tallahassee Airport is one of the major airports in North Florida. Although the airport opened in 1961, a new passenger terminal opened in 1989 to replace the old one which was has become obsolete. Tallahassee Airport is served by United Airlines, Delta Airlines and Silver Airways, providing flights to major cities in the country, and connecting Tallahassee to the rest of the world. Plans are underway to construct a new international facility which will serve the Panhandle area, as well as its surrounding areas. The airport also known as Tallahassee Regional Airport has one terminal with two concourses, and three parking options. Our professional staff can provide you more information about easy airport car parking, select amenities and calculate cost, for a hassle-free parking at Tallahassee Airport.
 TLH Airport Parking Options
Tallahassee Airport has three parking options with a total of 1,711 parking spaces. The short-term parking lot is a short walk to the terminal, and ideal for dropping off and picking up passengers. The long-term parking lot is ideal for more than a day of parking. Valet parking is also offered. There are parking garages and lots nearby and in the city, that provide short-term and long-term parking for travelers who are looking for alternatives to on-site parking. These facilities may provide services such as valet parking, shuttles to and from the airport, baggage assistance, and car services. If shuttle is not provided, Uber, cabs, and buses are available to ferry you to the airport.
Tallahassee Airport Long & Short Term Parking Rates
The first 30 minutes of parking is free for both the short-term parking and long-term parking lot. Each additional 30 minutes costs $3 with a daily maximum of $13 for the short-term parking lot. Each additional 30 minutes costs $2 with a daily maximum of $11, and $66 for a week parking at the long-term parking lot. Valet parking costs $11 for the first eight hours, and $16 from 8 to 24 hours. We can help you compare costs, select amenities, and provide you with more information about on-site and off-site parking options, so you can enjoy your holiday or business trip stress-free.
---
Tallahassee Airport Parking Map
---