Syracuse Hancock Airport Parking
🅿 Book Parking Online NOW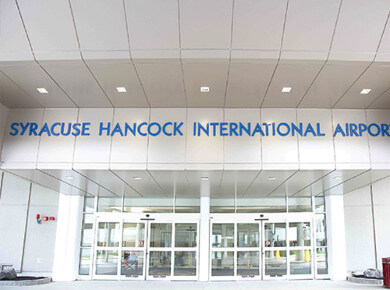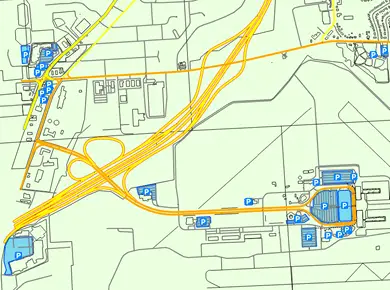 Syracuse Hancock International Airport serves millions of aircraft operations due to great passengers volume. It works with many U.S. airlines and the number of destinations available in the airport continues to grow. Syracuse Hancock International Airport parking facilities include standard options to provide full parking service. It provides both: garage covered parking and open-air parking zones.
What to look for in Syracuse Hancock airport parking
We know that you dream of convenient Syracuse airport long term parking that will cost you not much. However, it is always necessary to choose between price and quality. If to consider this airport, it has well-equipped parking garage with 400 places available but its price isn't always pleasant. The parking doesn't include various zones, as it is mentioned above, there are only two places available in the airport. But parking costs depend on the period of time your car is staying there.
You can also consider parking near Syracuse airport. What makes this so special? You will find more cost-efficient garages for your car and won't spend much money on parking. Many people prefer to use parking zones in hotels, or on streets, or in public garages. Syracuse airport off-site parking is full of opportunities!
Syracuse airport parking rates
So let's get down to business: Syracuse airport parking rates. As we already know, prices are set according to the time a car stays in a lot. For example, hourly rates in a garage are the following: $6/up to an hour, $10/3-6 hours, etc. The price increases when you prolong a car stay. The same rules are applied to hourly rates for surface parking lots: up to 1 hour - $5, 1-3 hours - $7, etc. Syracuse airport parking fees are what you need to know before parking!
Parking rates at Syracuse airport include other variants as well. Open lot will cost you $13 per day and $91 per week; garage parking prices are $15 per day and $105 per week. If you are lucky to get Syracuse airport parking discount coupon, you will be provided with a small service discount.

Open Lot
Up to 1 hour - $5
1 to 3 hours - $7
3 to 6 hours - $9
6 to 24 hours - $13

Garage
Up to 1 hour - $6
1 to 3 hours - $8
3 to 6 hours - $10
6 to 24 hours - $15
---
🅿 Book Parking Online NOW
Syracuse Hancock Airport Parking Map
---