Spokane Airport Parking
🅿 Book Parking Online NOW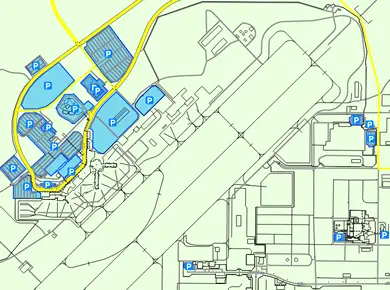 The 2nd busiest airport in the state of Washington is Spokane Airport. It has an International Air Transport Association (IATA) airport code GEG in honor of Major Harold Geiger, a military aviation pioneer. Spokane Airport is your gateway to the city of Spokane, the rest of Inland Northwest, and Coeur d'Alene in North Idaho. The airport handles more than three million passenger movement annually. It is served by five air carriers with fifteen nonstop destinations across the country. For a midsize airport, Spokane Airport is ranked as the 70th busiest airport in the country. Since the airport tends to be busy all year round, parking will require more planning than usual. Through our website, you can choose from a range of parking service, select amenities and calculate costs for easy airport parking at Spokane Airport.
GEG international airport parking
Spokane Airport offers four parking options. The airport has two Parking Garages. The one is located in front of the terminal with two skybridges on both ends connecting to the terminal. The second garage is located right behind it. The Outside Parking surrounds the second garage and situated on both sides of a side road. The Economy Parking is ideal for Spokane airport long term parking and has continuous free shuttle service to and from the terminal. The Concourse C Parking is located opposite the Concourse C.  In addition, the airport has a Cell Phone Waiting Lot for motorists awaiting the arrival of their passengers.
There is a number of car parks and parking garages near the airport, or in the city about 7 miles away. These are alternatives to parking onsite. Some of these car park offer complimentary 24/7 shuttle service to and from the airport, valet parking, luggage assistance and car maintenance. We can assist you in comparing parking services and calculate the costs.
Spokane airport parking fees
For the Parking Garages, parking fees start at $2 for the first hour, and $10 for 4 hours or more. For Outside Parking, daily parking fee is $8. For Economy parking, daily parking fee is $4. The Concourse C Parking daily fee is $7.50, and parking payment is on a credit or debit card basis only. Parking off-site rates vary depending on whether you opt for self-storage parking or parking in one of the car parks. Parking can be a piece of cake when you consult with us. We guarantee that you can save more on parking fees and enjoy the perfect parking spot for your vehicle.
---
🅿 Book Parking Online NOW
Spokane Airport Parking Map
Parking name
Phone number
---