Southwest Florida Airport Parking
🅿 Book Parking Online NOW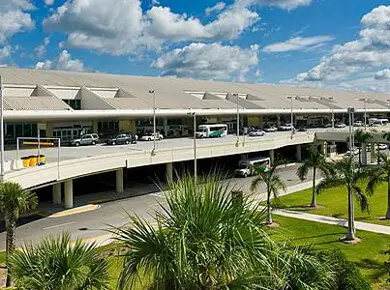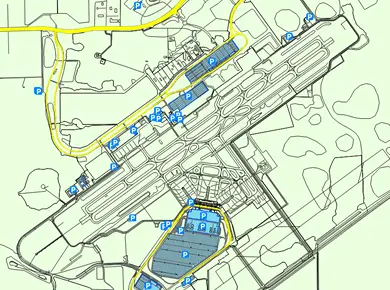 Southwest Florida International Airport has only one terminal but it provides services for millions of people. It works with several airlines to organize flights to various destinations. Among the most used airlines are the following: American Airlines, Silver Airways, Southwest Airlines, United Express, etc. Southwest Florida International Airport parking includes almost 11500 lots for different parking types.
Southwest Florida International Airport parking services
Southwest Florida airport has approximately 300 aircraft operations every day. It means that thousands of travellers use its services: have lunches in cafes, buy souvenirs in shops, park cars, etc. The airport offers several parking places with all necessary facilities, including long term and short term parking. Long term parking zone isn't covered and it is a big minus for those car owners who want to leave a vehicle in a secure, dry and convenient place. However, a complimentary shuttle bus is provided for people who use this parking area.
Short term parking zone is located in a garage. So, you leave a car in good conditions and there is no need to worry about it. Short term garage is in close proximity to the airport terminal and a passenger won't need a shuttle bus. In addition to standard parking services, there are more free car services in this parking area. For example, you can get an assistant who will help you to find a convenient lot for parking.
Southwest Florida International Airport parking rates
Southwest Florida International Airport parking rates already include all necessary taxes. One can pay for the service with cash or a credit card. If you need long-term parking, be ready to pay $2 per hour and $60 per the first week. Every additional day after the first week will cost you $4. Short term parking offers a free 20-minute stay for drivers who are waiting for passengers. Then a driver will pay $2/20 minutes, $3/the first hour.
As you can see, it is also more reasonable to consider off-airport parking zones because you can find cost-efficient solutions there. Don't hesitate to use our website to find a lot of variants for cheap parking near Southwest Florida airport. Park your car in a convenient place and save more money for travelling!
---
🅿 Book Parking Online NOW
Southwest Florida Airport Parking Map
---