San Diego Airport Parking
🅿 Book Parking Online NOW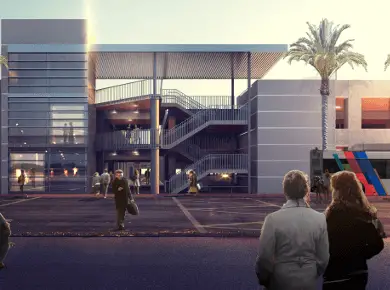 The 30th busiest airport in the United States, San Diego International Airport is located 3 miles from the city of San Diego. Although the airport is not a hub of any airline, it is served by 13 domestic and international carriers with 500 flights daily linking the city to the rest of the world. The airport has two terminals handling approximately 20 million passengers annually. The airport is also the home to the largest airport United Service Organizations (USO) center in the world. This is because the city hosts the nation's largest concentration of military personnel.
SAN Airport Parking Options
Easy airport parking is provided by the airport's 5 parking lots. Terminal 1 and 2 parking lots are located in front of the terminals. There are self-park car parks and are most convenient for picking up and dropping off passengers.  San Diego airport long term parking lot Harbor Drive is 3 to 5 minutes by shuttle to the terminal with daily rates available. The Economy lot pacific highway car park is 5 to 10 minutes to the terminal which is open 24 hours. The airport has a Valet Parking lot which also provides car wash, oil change, and other car services. It also has a Cell Phone lot, ideal for waiting for a passenger arrival.
San Diego Airport Parking Rates
If you are wondering how much is San Diego airport parking costs, the rates for short term terminal 1 & 2 car parks is $6 for 30 to 60 minutes parking, and $32 for 7 to 24 hours. For long term parking lot Harbor Drive, it is $20 per day. For Economy Lot Pacific Highway, it is $13 per day. For Valet Parking, it is $40 a day with a reserve rate of $35 per day.
Information on other Parking Options
Aside from parking at SD airport, there are a number of car operators within the vicinity and in the city, that offer competitive rates, ideal for long term parking. Rates starts at $15.00 per 24 hours, and valet parking at $22 per day. Most of these parking lots offer discounts for the military, corporate accounts, online booking, or prior reservation. Aside from providing courtesy shuttle to the airport, amenities and services which you can avail of may include 24-hour access, luggage assistance, car wash, car maintenance, interior and exterior detailing, and minor car repairs.
Choosing the right car park can be mind boggling. GoToAirportParking  can provide you with car park options, select amenities  you want, and calculate costs for a stress-free travel.
---
🅿 Book Parking Online NOW
San Diego Airport Parking Map
Parking name
Phone number
---