Sacramento Airport Parking
🅿 Book Parking Online NOW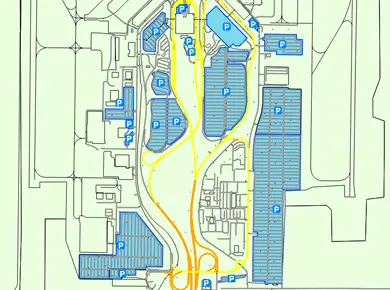 Sacramento International Airport (SMF) is a public airport, situated in Sacramento County, California, United States of America. It is the focus city for Southwest Airlines. The SMF (passenger aviation) is a part of the Sacramento County Airport System, that also includes Mather Airport (cargo aviation), Executive Airport (general aviation) and Franklin Field (general aviation training activities). The main goal of this system is to deliver safe, efficient and customer friendly aviation transportation services that help its own region to prosper. Sacramento Airport has two terminals: terminal A and terminal B. Terminal B is the largest airport terminal in the United States to achieve LEED Silver status. Standard airport food courts are replaced with unique-to-Sacramento restaurants in both terminals, so having a dinner in SMF is much more than just grabbing a quick snack. Two terminals full of shops variety, starting from travel goods to perfume boutiques. The airport can be accessed via Airport Blvd directly from Interstate 5 at exit 528.
Sacramento Airport Parking Options
Sacramento international airport parking offers four lots to choose from plus 3-hours free Cell Phone area. Parking Garage is a 6-store covered building (top floor uncovered) right across from the Terminal A. Terminal A can be reached via pedestrian bridge on the 3rd floor and Terminal B via pedestrian bridge on the 5rd floor. It is the closest to the terminals parking option. Daily parking outdoor lot is situated behind the garage and can be easily accessed by the shuttle bus that transits every 10 minutes. Both lots are recommended as Sacramento airport long term parking. Hourly parking is an outdoor lot situated close to the Terminal B. It is a perfect choice for short-term stay, as daily expenses are higher than at garage and daily parking lots. The Economy parking lot is the most cost-effective choice although it is situated farthest of all. It is a huge outdoor lot situated east of Terminal A. Shuttle service is provided every 15-20 minutes. All parking spaces are operating on a first-come, first-served basis. No reservations available. You can find SMF parking rates right below.
Sacramento Airport Parking Rates
SMF Hourly parking costs $2 per half an hour and same for each half-hour thereof, up to daily maximum of $29 per day.
SMF Daily parking costs $2 per each half an hour, up to daily maximum of $12 per day for Daily Lot and $18 per day for Parking Garage.
SMF Economy parking costs $2 per each half an hour, up to daily maximum of $10 per day.
Are you interested how to lower Sacramento's International Airport parking prices? You can consider parking near Sacramento airport. There are lots of hotels with Park Sleep Fly packages, like Fairfield Inn & Suites, Hawthorn Suites or Hilton Garden Inn and many more.
---
🅿 Book Parking Online NOW
Sacramento Airport Parking Map
---