Rockhampton Airport Parking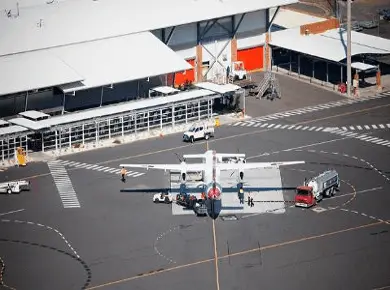 Rockhampton airport short term parking rates

| Type | Days | Price |
| --- | --- | --- |
| Outdoor | 1-day | $25.00 |
| Outdoor | 2-days | $50.00 |
| Outdoor | 3-days | $75.00 |
| Outdoor | 4-days | $100.00 |
| Outdoor | 5-days | $125.00 |
| Outdoor | 6-days | $150.00 |
| Outdoor | 7-days | $175.00 |
The gateway to city of Rockhampton and central Queensland, Rockhampton Airport is a major Australian regional airport served by JetGo, Qantas and Virgin Australia airlines. These airlines connect the city and its surrounding areas to Brisbane, Mackay, Queensland, Gold Coast and Melbourne. The airport which has one main terminal and 4 car parks, handles a total about 750,000 passengers a year. Because of the improvements made to the airport in the mid-2000s and the influx of passengers, Rockhampton Airport was named the "2007 Australian Major Airport of the Year" Rockhampton is operated and managed by the Rockhampton Regional Council.
Rockhampton Airport Parking Options
The Short Term Car Park is the closest parking option to the terminal, making it ideal for less than a day parking, and dropping off and picking up passengers. The Long Term Car Park is the furthest from the terminal and is only accessible via Canoona Road. The Premium Car Park features covered walkways to the terminal. The Covered Car Park is located right of the terminal and provides protection from the elements especially if you intend to park for a longer period of time. There are other car parks located near the airport and in the city which are great alternatives to airport parking. Rockhampton Airport Parking Fees
For the Short Term Car Park, parking for the first 20 minutes is free of charge, $4 up to one hour, and $20 for 24 hours. For the Long Term Car Park, parking fee for a day is $12, $64 for 7 days, $82 for 10 days, and $4 per day after. For Premium Car Park, parking fee is $15 for the first day, $105 for 7 days, $150 for ten days, and $15 per day after. For the Covered Car Park, parking fee is $23 for the first day, $137 for 7 days, $194 for ten days, and $19 per day after. Car parking fees are waived for patients or their caregivers who travel under the Patient Travel Subsidy Scheme (PTSS) through Queensland Health, except in the Covered Car Park. The car parks nearby offer competitive rates for casual parking, night parking, weekend parking, and monthly parking.
By providing you with more information and cost estimates, we guarantee that you will have the best parking spot in Rockhampton.
---
Parking name
Phone number