Roanoke–Blacksburg Airport Parking
🅿 Book Parking Online NOW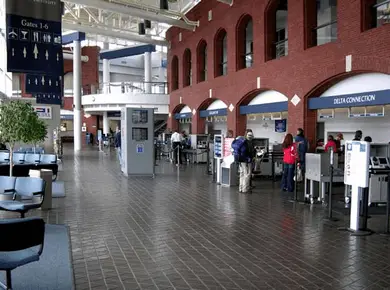 Roanoke–Blacksburg Regional Airport (ROA) or Roanoke West Virginia airport is a public airport situated just 3 miles northwest of Roanoke, Virginia, United States of America. The airport handles more than 60 scheduled flights every day. The FAA even categorized ROA as a non-hub primary commercial service facility. Handling over 600 thousand passenger conveyance operations and roughly 50 thousand aircraft operations annually. Roanoke WV airport includes single two-storey Y-shaped terminal building with two runways. The ground floor includes check-in area, car rental offices, baggage claim area and taxi hire. The second floor includes 1-6 Gates and cozy food and beverage zone with free Wi-Fi available. Roanoke airport hours are: open at 3:30 a.m. and close at 1:00 a.m. The airport is easy to access via Aviation Drive, that branches from Hershberger Road, east of Exit 3E off I-581 leading to Roanoke or from Virginia State Route 118, connecting Municipal Drive east of the terminal.
Roanoke Regional Airport Parking
Parking at Roanoke airport features a both Short and Long term surface uncovered parking lot plus additional overflow lot and Cell Phone lot. Roanoke Regional Airport Commission the owner and operator of ROA is planning on building a multi-floor parking garage right atop the long-term surface lot. Parking lot is situated right across the main terminal, which makes its access as easy as possible. Short-term parking is only 100 meters away from the terminal entrance, which makes it perfect place to pick up or deliver your passengers. The Cell Phone lot is located behind the surface lot. This is an ideal choice for those who came to pick up arrivals as it is free. But be aware that drivers must remain in their car, as no unattended vehicles are allowed as well as commercial vehicles. All unattended vehicles will be towed way with further expanses.
ROA Parking Rates
The Short-Term Lot is free for the first 15 minutes. It costs $1 for the first hour and $1 per each additional 30 minutes, up to daily maximum of $16. The Long-Term Lot is also free for the first 15 minutes. It costs $1 for the first 1 hour and $2 per each additional hour, up to daily maximum of $9.
Roanoke Off-cite Parking
Additionally you can choose to stay at an off-cite parking lot. Airport Plaza Hotel or Holiday Inn Roanoke - Valley View and they are only a few of a great variety avilable. First one charges $4.50 per day while the second one charges $5 per day.
---
🅿 Book Parking Online NOW
---