Provo Airport Parking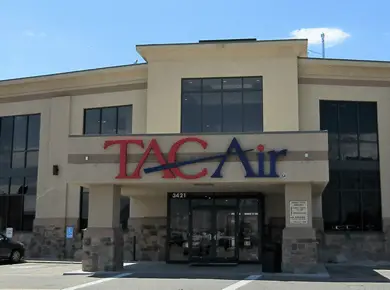 Provo Municipal Airport (PVU) is a small public airport that is located just a few miles west of Provo City, Utah County, Utah. The airport terminal is located at 3421 Mike Jense Parkway, Provo, UT next to the TAC Air building. The airport hosts Allegiant Air commercial flights to three airports: Los Angeles International Airport, Tucson International Airport, and Phoenix/Mesa Gateway Airport. PVU Airport serves more than 160 000 passengers every year. Provo Airport continues to attract companies and individual aircraft owners who want to build hangars and arrange their businesses on the territory of the airport. Therefore, further growth of the airport facilities is necessary.
The PVU Airport is frequently used for training flights and is home to flight schools, including one operated by Utah Valley University. The UVU School of Aviation Sciences uses the airport since 1988 and has trained thousands of aviation industry professionals and FAA certified pilots.
The main terminal is a newly renovated building with all the modern necessities. Moreover, In November 2019, the airport launched the construction of a new modern terminal worth $40 million. The airport authorities are planning to add a total number of 10 Gates, more airlines and more jetways. The airport's terminal is situated on the east side of the airfield and includes aircraft aprons, hangars, aircraft rescue and firefighting facilities, fixed-base operator stations, and other structures. Food and beverages in the airport can be found at Gilley's Café. The café offers a variety of tasty meals, freshly made sandwiches, salads and burgers. An excellent selection of beer as well as a number of non-alcoholic drinks are waiting for your order.
Provo Municipal Airport Parking
Provo Airport parking lots for passengers are located in front of the Provo terminal and the TAC Air building. Provo Airport Long-Term parking is a big well-lit outdoor area that is located right in front of the terminal building. Provo Utah Airport parking also includes Car Rentals. You can easily book a car through Alamo/National/Enterprise, Budget, and Hertz companies.
Provo Airport Parking Fees
Provo Airport parking prices are fixed $6 per day. There are a total of two kiosks available to pay for parking - one you can found in the terminal and another one is located inside the TAC Air entrance. NOTE: Pre-paying at the kiosk in the terminal is the best option unless you need to extend your stay.
---
---