Pittsburgh Airport Parking
🅿 Book Parking Online NOW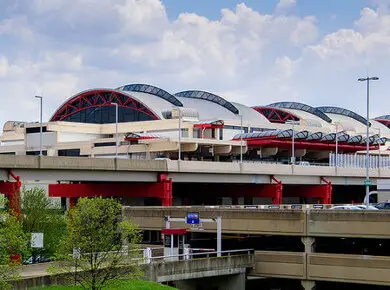 Pittsburgh International Airport serves many destinations, including  both, domestic and international. The most much-in-demand international destinations are Iceland, Canada, Dominican Republic and Mexico. Pittsburgh airport parking options are safe, convenient, but not always cost-efficient. Perhaps unsurprisingly that travellers search for successful combinations of low price and high quality of parking.
Facts about Pittsburgh airport parking
When considering long term parking, Pittsburgh airport offers some options. It is suitable for people that need to leave a car for a long period of time. As for short term parking, Pittsburgh airport has this solution as well. It is used by passenger who plan to leave a vehicle for less than 24 hours. You will pay for every hour spent on a parking spot and it is convenient when you need it only for several hours.
Pittsburgh airport valet parking is offered as VIP service and helps busy people to get rid of all problems connected with parking. They just give keys to a valet and have free time to have a lunch in the airport cafe. If you need a very cheap parking at Pittsburgh International Airport, you can use a cell phone lot. In general, many airports in the U.S. provide this option for free, but here you will need to pay $2 for the second hour, the first hour is free.
However, it is up to you what solutions to choose. Pittsburgh airport parking, long term or short term, isn't suitable for any travel budget. If you plan to control money spending while travelling, parking service isn't the first thing to pay for. It is always better to search our website to find cheap public parking zones.
Pittsburgh international airport parking rates
Pittsburgh international airport parking rates aren't the lowest ones. Cost of parking at Pittsburgh airport is 2$/the second hour (the first hour is free) in an Extended Economy Parking zone, the daily maximum is $8. If you are mostly interested in long term stays, you will need to pay $3.00/hour, $14.00 is daily maximum rate. So, Pittsburgh airport parking fees for long stays aren't very cost-efficient. Pittsburgh airport parking prices for short term parking are the following:
$1/1st hour

$4/each additional hour

$24/day
Obviously, it isn't the best solution to use Pittsburgh airport parking, off-site parking can save a lot of money.
People who travel very often and always need a convenient parking spot, can use Gold Key Lot Parking - it costs $260/month. It is usually better to reserve a space there. If you want discounts, try Pittsburgh International Airport parking coupons, get 10-15% discount. Also consider parking near Pittsburgh International Airport, sometimes public parking areas offer special deals.
---
🅿 Book Parking Online NOW
Pittsburgh Airport Parking Map
---