Orlando Sanford Airport Parking
🅿 Book Parking Online NOW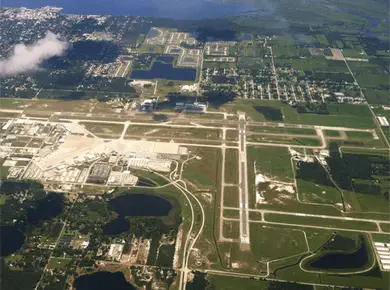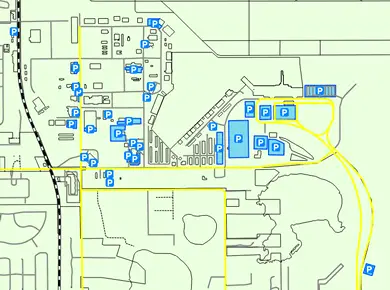 Orlando Sanford International Airport or SFB is a public airport situated in Sanford, Florida, United States of America. This airport consistently rates one of the top 30 busiest airports in the world by the total number of flight operations. SFB is a focus city for both Allegiant Air and ViaAir airlines. Airport has two terminals (A and B) and four runways. Terminal A includes 9 Gates, duty free shops, observation deck and food services. Terminal B includes ticketing, baggage claim area and Gates 6-12.
Parking Spot Orlando
SFB airport parking offers four different parking options: Parking Garage, Long Term lot, Hourly lot and Economy parking plus Cell Phone Parking Lot. Parking Garage is the only covered parking lot available, unlike other three surface lots. It is situated right next to the Terminal B, which makes it really easy to approach. You can use the pedestrian bridge on the level 2 in order to directly enter the terminal. Hourly lot is also conveniently situated next to the Terminal A. Long Term parking is a big outdoor lot situated right next to the Garage. Economy Parking is located farthest of all, south-east of Terminal A, but it is the most cost-effective option at SFB. All the lots include disabled parking spaces. The Cell Phone Parking lot is free to use for drivers that came to pick up arrivals. Please note that drivers cannot leave the car for a long period of time. All unattained vehicles will be tugged with further expenses. This lot is situated just 1 mile away from the terminals.
Shuttle to Sanford airport
Orlando Sanford airport parking provides special free shuttle bus service that is available from both Long Term and Economy lots. Its route does not include Garage and Hourly lots due to their close disposition. Bus circles about every 15 minutes, time of operating is determined by the daily flight schedule.
Orlando Sanford Airport Parking Fees
All the lots charge $2 per each 20 minutes increment, up to particular daily maximum.
Orlando Sanford airport Long Term parking costs $14 per day. Parking Garage costs $17 per day. Economy Lot costs $13 per day. First 15 minutes are free for Hourly lot, while daily rate is $28.
Parking rates at Orlando airport include all taxes and fees. All parking lots accept major credit cards or cash via Self-Parking machines in Terminal B or at the exit lines (credit cards only).
Orlando airport parking coupons
If you want to save some money, consider the best western Sanford airport parking offers. You can redeem your Orlando Sanford Airport parking coupons for cheaper parking rates. Park Me Fly, Best Rate, Marriot Orlando and Omni Airport Parking offer valet parking services, while WallyPark, and Park To Fly are outdoor self-parking lots. These are most popular offsite lots with discounts.
---
🅿 Book Parking Online NOW
Orlando Sanford Airport Parking Map
---