Melbourne FL Airport Parking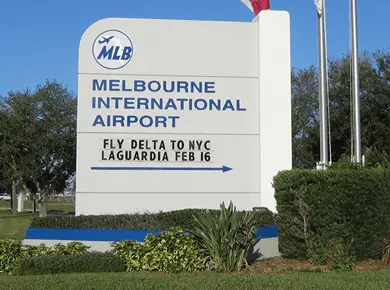 Orlando Melbourne International Airport (MLB) is a public airport located just a few miles North-West of downtown Melbourne, Brevard County, Florida, United States. Orlando airport is currently served by four commercial airlines: American, Elite, Delta, and Porter. They are all part of Apex Executive Jet Center, which can offer private aircraft charter flights to destinations throughout the United States, Canada, the Caribbean, and Central America. Operating non-stop domestic flights to Atlanta, Georgia; Charlotte, North Carolina; Philadelphia, Pennsylvania; Portland, Maine, and Washington, DC (Reagan) guarantees more than 100,000 passengers going through the MLB Airport every year.
Orlando Airport's terminal is a comfortable one-story building with all the modern necessities, Lucky's Craft Food and Drink, Lucky's Bar and Dunkin' Donuts. The Lucky's Craft Food and Drink is located before the security check. The Lucky's Bar is located post-security checkpoint. You can get a full-course menu as well as books, magazines and all kinds of gifts as a travel souvenir. Hot Dunkin' Donuts coffee and freshly baked donuts are now available next to Gate 3. The airport offers free internet access for all tourists. Free Wi-Fi spot "MLB" is available throughout the airport. The airport's terminal is open two hours prior to the first scheduled flight and remains open up to one hour after the last flight arrives. Moreover, the airport's aviation flight school offers a variety of pilot and advanced aircraft training programs.
Melbourne Airport Parking
Melbourne FL Airport parking has two parking lots: the Short-Term lot and the Long-Term lot. The Short-Term lot is your most convenient option as it is located right across the terminal. The Long-Term lot is located behind the Short-Term one, but it can still be easily reached on foot. To make your short trip more comfortable, two covered walkways lead directly to the terminal. Handicapped spaces are located as close to the terminal as possible. The Melbourne Airport Police Department provides perfect protection, together with well-lit parking lots and 24/7 CCTV video surveillance. Please note that both lots are outdoor parking type.
Melbourne FL Airport Parking Fees
Short-Term parking rates $1 for each 20mins (parking up to 1 hour), and $1 for every 30 mins thereafter, up to a daily max rate of $14. Melbourne FL Airport Long-Term parking rates $1 for every 20 mins (parking up to 1 hour), and $1 for every 30 mins thereafter, up to a daily max rate of $12. You can pay for the parking services with American Express, MasterCard, and Visa cards.
If you are looking for a covered garage parking area with cleaning services you can look into Melbourne FL Airport off-site parking. Our website parking guide will find a perfect parking lot in just a few clicks!
---
Melbourne FL Airport Parking Map
---