Ontario Airport Parking
🅿 Book Parking Online NOW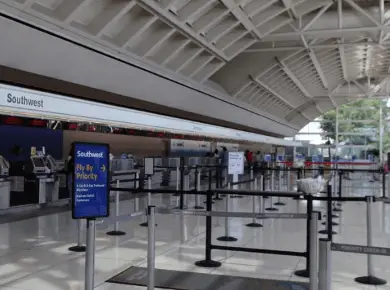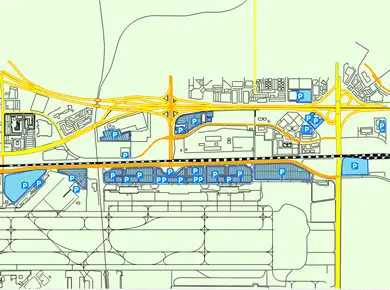 Located two miles from the city of Ontario, Ontario International Airport is also known as the LA/Ontario Airport to avoid confusing it with Ontario, Canada. It is the 3rd largest airport in the area after LAX Airport and John Wayne Airport. The airport handles more than 4 million passenger movement annually with 7 airlines linking the city to other cities in the county and beyond. It is also an air and truck hub for UPS Airlines and a major distribution point for FedEx Express. The airport consists of three terminals and four parking lots. The airport can be especially during the holidays, and when it is used as an alternative landing are of LAX, as such, finding the perfect parking spot for your vehicle can be a hassle. Through our website, you can choose from a variety of parking services, select amenities, calculate costs so you can enjoy a stress-free trip from ONT Airport.
Parking at ONT Airport
Ontario Airport has 4 parking lots with a total of about 6,000 spaces. Lot 2 is opposite Terminal 2. Lot 4 is opposite Terminal 4 and is where valet parking is located. Lot 3 is located between Lots 2 and 4. Lot 5 is located east of Terminal 4 where free shuttles run to both terminals every 20 minutes, 24/7. No trucks, trailers, vans or campers or RV's are allowed in these parking lots, and cars left over 30 days may be impounded at owner's expense. The airport also has a Cell Phone Waiting Lot for motorists who are picking up passengers. It is free to use but has a maximum time limit of one hour.
Off-Site Parking for ONT Airport
Off-site car parks are great alternatives to parking in the airport especially for Ontario Airport long term parking. These car parks are within the vicinity of the airport or in the city. These are gated, well-lit and secured car parks that can accommodate all types of vehicle. Aside from shuttle services or valet parking, they may offer amenities and services including luggage assistance, car wash, and car maintenance.
Ontario Airport Parking Rates
Ontario Airport parking fees for lots 2 and 4 are $18 per day. Lot 3 is $13.00 a day, and Lot 5 Economy parking costs $3 for the first hour, $2 each additional hour, and $9 per day. Valet parking is $20 per day. For off-site car parks, rates begin at $8 a day to $150 for monthly parking. Some of these car parks offer discounts for frequent parkers, online reservations, corporate accounts, and monthly specials.
Not sure which car park to choose? Our friendly staff will help you select amenities, calculate costs, and provide more information for your parking needs.
---
🅿 Book Parking Online NOW
Select Ontario Airport Parking filter:
---