Norfolk Airport Parking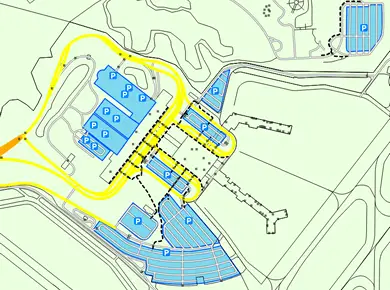 Norfolk airport serves primarily for a part of Virginia and North California. As many other airline hubs, Norfolk airport has immense flow of passengers who use its services every day. Parking isn't an exception, so, finding a good parking place is a hot topic for many travelers. Add a little bit more planning to your trip and get easy airport car parking. Select amenities and calculate cost using our website tools!
Norfolk international airport parking
Norfolk international airport parking zone includes several spaces located not far from the flight terminals. Due to the fact that the airport operates 24/7 and hundreds of people use it daily, parking facilities should meet the highest requirements and customers' demands. Short-term and long-term car parking areas provided by the airport, have friendly service and all conditions for convenient parking.
The airport garages have quick access to the arrival and departure terminals through covered walkway. Parking facilities also include some additional services on request. For example, security guards and 24/7 assistants serving Norfolk airport long-term parking.
Off-airport parking places in Norfolk
Similar to other cities, Norfolk has many parking zones as well. Of course, not all of them are located near the airport terminals and can be used while travelling. However, still there are many places to leave a car nearby the airport and not to pay much money for this.
The first idea to consider is private garages. They usually provide high-quality parking service, including safe and convenient lots under security, cameras and discounted prices. Private parking zones offer lots for rent on hourly and daily basis and flexible conditions for long-stays. They are available at any time, so, a traveler can park a car just before flight or reserve a place in advance.
Norfolk airport parking rates
We can't but mention about Norfolk airport parking rates. They are often discussed by regular airport customers and opinions usually differ. Some travelers consider them to be very high and prefer to leave a car in nearby area. But it's up to you what place to choose. Norfolk international airport parking fees are the following:
· Short-term parking – $1/30 minutes; $24 maximum per day
· Long-term stay – $1/30 minutes; $9 maximum per day
Parking name
Phone number
Easy Parking Guide
Our easy car parking guide is simple to use. Just type in your country, city or airport and you'll be taken to a page with a complete description of the facility. You choose whether you need parking for a car, motorcycle, or bike and whether you'll need a child seat or shuttle bus. We provide you with a complete list of options, beginning with the lowest price. Our map displays all your parking options clearly, as well as their distance to the airport. If you are flying internationally, you can also find international airport reserved parking.
Calculate Cost
Each travelers' needs are unique, and there are many different amenities to choose from when it comes to airport car parks. Important things to consider are whether airport car parking facility has baggage assistance available, a travel agent on hand, valet parking available, and whether or not the lot is secure. You'll also want to know whether the lot offers indoor or outdoor parking or both. Other amenities that may be available include car rental services, CCTV, car wash services, and 24-hour availability. Our system allows you to compare available parking spaces by amenities to ensure the airport parking lot you choose has everything you need.
Having Problem?
Our easy parking guide lets you immediately calculate the cost of your airport car park space too. Once you have compared all spaces that are available, choose the one that is right for you and our system immediately calculates the cost. It's one less thing you have to be concerned with at the airport, and you'll have peace of mind knowing there's a reserved parking lot waiting for you, as well as exactly what your parking costs will be.