Myrtle Beach Airport Parking
🅿 Book Parking Online NOW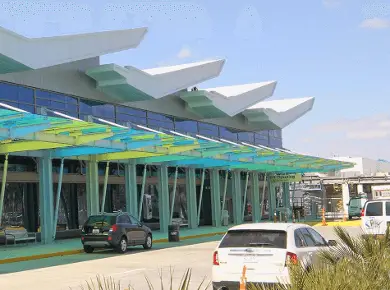 The 3rd busiest airport in South Carolina, Myrtle Beach Airport (MYR)  is a county-owned public-use airport,  and your gateway to the city of Myrtle Beach also known as the "Golf Capital of the World." The city is a vacation hotspot because of its well-designed golf courses and fantastic beaches. The city welcomes more than 14 million visitors annually, and the airport plays a significant role in the city's tourism industry.  Myrtle Beach Airport is served by seven airlines, with non-stop flights to more than 35 cities in the country with connections to the rest of the world.  The airport has one terminal with two levels, and two main parking lots. With a lot of passengers travelling to and from the airport, the parking lots can be full at times. Our professional staff can assist you so you can enjoy easy airport car parking, select amenities and calculate cost.
Myrtle Beach Airport Parking Options
Myrtle Airport has two main airport parking options. The short-term parking lot is located just across the terminal and ideal for bringing and picking up passengers to the airport. The Myrtle Beach airport long term parking is located behind the short term parking lot and best for parking stays for a day or more. In addition, it has a credit card lot, a cellphone lot, and handicapped parking. The airport is about ten minutes to Myrtle Beach, and there are parking garages and lots in the city that are great alternatives to airport parking.  They may provide shuttle service to and from the airport, or you can take the Uber, cab, or the public bus which has a regular schedule from the Myrtle Beach transfer center to the airport.
Myrtle Beach Airport Parking Fees
The first 15 minutes at the short-term parking lot is free of charge. 16-30 Minutes is $3.00, and each additional 15 minutes increase at a rate of $1.00 with a maximum of $21. Long term parking has a daily flat rate of $21. Aside from private garages and lots, there are hotel parking lots where you may park if you stay for a night, and storage rentals where you can park your car for a longer period of time. For more information about parking rates and amenities offered, you may consult our professional staff who will gladly assist you in finding the ideal parking spot for your needs.
---
🅿 Book Parking Online NOW
Myrtle Beach Airport Parking Map
---