Montreal Pierre Elliott Trudeau International Airport Parking
🅿 Book Parking Online NOW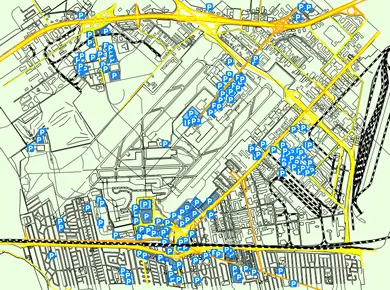 Montréal–Pierre Elliott Trudeau International Airport or Montréal–Trudeau is an international airport serving Montreal, Quebec, Canada, located on the Island of Montreal. The airport two-storied terminal is located entirely in the suburb of Dorval, while one runway is located in the Montreal borough of Saint-Laurent. Air Canada, the country's flag carrier, also has its corporate headquarters complex on the Saint-Laurent side of the airport. Trudeau is the busiest airport in the province of Quebec and the third-busiest airport in Canada by both passenger traffic and aircraft movements, serving more than 18 million passengers annually. On an average day, nearly 50,000 passengers transit through Montréal-Trudeau. Airlines servicing Trudeau offer year-round non-stop flights to five continents, namely: Africa, Asia, Europe, North America and South America. Montreal Airport has only one large Terminal.
Montreal airport parking options
Montreal airport economy parking lots are located near the airport, while Terminal and Indoor parking lots are just within walking distance of the Terminal. The Indoor parking is a heated zone, located in the registration area transborder departures and is connected directly to the terminal. Valet parking is also available. Montreal airport parking areas offer charging stations for electric vehicles and car2go services.
Montreal airport parking rates
Montreal airport terminal parking, close and comfortable parking area. There are ValetParc, located right in front of the Terminal, price is $42 per day, Short-Term parking, located 3 minutes walking from the Terminal, price is $6 per 20 minutes and $37 per day, and Multi level parking area, located 5 minutes walking from the Terminal, price is $6 per 20 minutes and $30 per day.
Montreal airport economy parking areas are located near the terminal, the trip takes about 15 minutes by shuttle bus. These lots are perfect choice for a long term parking. There are 3 parking lots with different airport parking fees. EconoParc P5 costs $6 per 20 minutes, $25 per day and $150 per 7 days. EconoParc P9 cost $18 per day and $110 per 7 days. AeroParc costs $20 per day and $120 per 7 days.
Montreal airport indoor parking or the HotelParc is right below the transborder check-in area and the Montréal Airport Marriott Hotel and connected to the Terminal. It costs $8 per 20 minutes and $39 per day.
---
🅿 Book Parking Online NOW
Montreal Pierre Elliott Trudeau International Airport Parking Map
---