Minot Airport Parking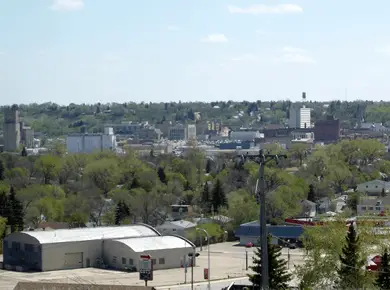 Minot International Airport (MOT) is a public airport, located just few miles North of Minot City, Ward County, North Dakota. The airport operates various general and charter flights every day. United Airlines, Delta Air Lines, and Allegiant Airlines currently offer their services to Denver, Minneapolis, Phoenix/Mesa and Las Vegas. As such providing around 150,000 passengers with transportation services every year.
Minot recently renovated terminal is a two-story building with most of the modern necessities. If you are looking for food and drink, you can visit the Trestle Café. It is located on the first floor of the terminal and features Toasted Panini Sandwiches with all kinds of hot and cold beverages, or freshly baked pastries with hot coffee. If you are looking for a full course meal, visit the Trestle Tap House. This restaurant is located in the post-security area. The menu features soups, salads, sandwiches and full bar of beverages. There is a whole new arcade play room, where you can spend your time before departure. There is also a Children's Play Area, prepared specially for Minot airport tiny travelers. Free Wi-Fi connection is available throughout the airport. Simply connect to "Fly MOT" and enjoy your time before departure. Moreover, around the airport you will find ATMs, charging stations and water bottle fill stations. The terminal operates every day from 3 a.m. until 1 a.m. without holidays.
Minot International Airport Parking
Minot airport parking offers two parking options: the Long Term parking lot and the Short Term parking lot. The Short-term parking is a perfect choice for short travels, as it is located right across the airport, only few steps away from the entrance. West of the first lot is located another Short term lot that shares some spaces with Rental Car parking area. Minot airport Long term parking lot is located a bit further away, to the South. It only takes a short walk to get there. For travelers convenience, in front of the terminal was designated a special area, reserved for quick picking up or dropping off passengers. Please note, that unattended vehicles are not allowed in this area. Also, keep in mind that Minot ND airport parking is an outdoor parking type, so no weather protection is available.
Minot ND Airport Parking Fees
Minot airport parking fees feature free parking time. Parking for the first 30 minutes is absolutely free for both Short and Long term lots. Minot airport parking price is $2 for 1 hour. Each additional hour rates $2, up to maximum daily rate of $12 (parking for more than 5 hours). There are also weekly parking rates: $72 for 7 days. Minot airport Long Term parking rates are the same as for the Short Term one.
---
Minot Airport Parking Map
---