Mesa Gateway Airport Parking
🅿 Book Parking Online NOW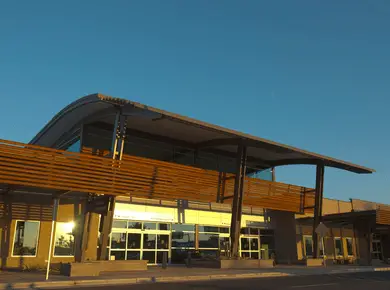 Phoenix-Mesa Gateway Airport, former Williams Air Force Base and later known as Williams Gateway Airport is an international airport, located in Mesa, Arizona, south-east of Phoenix, Arizona. Phoenix-Mesa Airport has experienced a huge leap in passenger traffic since Allegiant Air started providing scheduled services from Mesa in October 2007. Since the airport had faced with numbers ten times as big as it was the previous year, terminal modernization became a must. Nowadays Phoenix-Mesa airport successfully handles around 300,000 aircraft operations every year, which is around 800 operations per day. As for passenger traffic, yearly numbers aim to hit 2 million passengers mark. Phoenix-Mesa Airport parking services are sure to be expanded greatly.
The single-story renewed terminal building includes all the modern necessities that any tourist can desire. Delicious family restaurants, Bar&Grill, gift shops, vending machines and Mother's rooms. The terminal functions 24/7. In order to handle the ever-increasing passenger traffic, the east terminal expansion plans are in progress. The new terminal long-range plan is expected to be finished in 2030, the terminal will have 60 gates, and will provide services for around 20 million passengers.
Mesa Gateway Airport Parking
Phoenix-Mesa Gateway Airport parking options include the following: Economy lot, Hourly Express lot, Daily lot and a Cell phone lot. Parking at Mesa Airport is easy, the airport focuses on accessibility and comfort, as the closest and most convenient option - the Hourly Express lot, is located directly across the street from the main terminal building. Next in line is the Daily lot. This lot suits more for a few-day trip, due to its close position and average price. But if you're planning an extensive trip, you should probably draw your attention to the long-term parking at Mesa Gateway Airport. The Economy lot is located a bit further north, from the airport's terminal. Long-term parking near Mesa Gateway Airport is available in a huge outdoor parking lot, which also includes covered spaces. Special comfortable shuttle buses operate every 15 minutes from 5 shaded shuttle stops. All the buses are equipped with an automated pay station, which accepts both cash and credit card. It is recommended to save additional 15-20 minutes for the shuttle trip. All the Mesa Airport parking options are outdoor parking type lots, except for covered parking area in the south-east side of the Economy lot.
The Cell-phone lot is located a bit south of the Daily lot. This area is absolutely free to use, but please keep in mind that this lot is meant to be used only to pick up arriving passengers. No unattended cars are allowed.
Phoenix-Mesa Gateway Airport parking fees
Short-term parking (Hourly Express) Lot rates $1 per each half an hour, up to $18 per day. Daily Lot rates $1 per half an hour, up to $11 per day. Long-term parking, Mesa Gateway Airport Economy Lot, has a daily rate of $7. The Covered section of the Economy Lot is a bit more expensive - $11 per day.
Don't forget to use Mesa Gateway Airport parking coupons in order to get even better prices!
Mesa Gateway Airport Parking FAQs
How Much Does It Cost to Park at Mesa Airport?
The Mesa Airport parking cost varies depending on the type of parking spot you choose. The economy parking lot costs $3 per day, while the covered parking garage costs $5 per day. If you're planning on leaving your car at the airport for an extended period of time, you can also purchase a monthly parking pass for either $30 or $50, depending on the lot.
Can You Leave Your Car at Mesa Gateway Airport?
Mesa Gateway Airport (AZA) offers convenient, on-site parking for both short- and long-term stays. Terminal 1 offers Parking Lot 1 for short-term parking, with rates starting at $2 per hour. For long-term parking, Lot 2 is available, with a daily rate of $8. You can also purchase a weekly pass for $56 or a monthly pass for $216. Electric vehicle (EV) charging stations are also available in both Parking Lots 1 and 2.
To make things even easier, the Mesa Park N' Fly program offers travelers the option to reserve and prepay for their parking spot online before they arrive at the airport. Simply select your arrival and departure dates on.
How Many Planes Does Mesa Airlines Have?
Mesa Airlines is an American regional airline that operates as a subsidiary of Mesa Air Group. As of 2017, the airline employs 1,637 people and has 250 planes. In terms of size, Mesa Airlines is the largest provider of regional flight services to American Airlines. 
As of February 2018, Mesa Airlines operated a total fleet of 85 planes. 70 Bombardier CRJ-700 aircraft and 15 CRJ-900 NextGen aircraft. The average age of the Mesa Airlines fleet is 10 years old. 
According to their website, "Mesa currently has firm orders with Airbus for 50 additional A320ceo Family aircraft (including 30 A319ceos and 20 A321ceos).
How Is the Airport in Mesa Called?
Mesa Gateway Airport is the airport in Mesa, Arizona. It is a small regional airport that serves the Phoenix metropolitan area. The airport has one runway and two terminals, and it offers service to several destinations in the western United States.
The airport is named Mesa Gateway Airport because it provides access to the city of Mesa. The airport is located just a few miles from downtown Mesa, and it offers convenient access to the city's businesses and attractions. Mesa is a popular destination for tourists, and the airport serves as a convenient gateway to all that the city has to offer.
How Big Is Mesa Airport?
The Mesa Airport is a small, general aviation airport. It has a single runway that is 5,000 feet long and 100 feet wide. The airport has a single terminal that houses two gates.
The Mesa Airport is often used for training purposes because of its size and lack of commercial traffic. It also serves as an emergency landing strip for larger aircraft.
 
---
🅿 Book Parking Online NOW
Mesa Gateway Airport Parking Map
---