Mesa Gateway Airport Parking
🅿 Book Parking Online NOW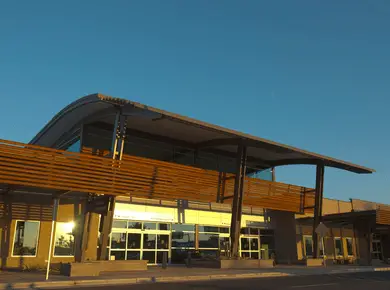 Phoenix-Mesa Gateway Airport, former Williams Air Force Base and later known as Williams Gateway Airport is an international airport, located in Mesa, Arizona, south-east of Phoenix, Arizona. Phoenix-Mesa Airport has experienced a huge leap in passenger traffic since Allegiant Air started providing scheduled services from Mesa in October 2007. Since the airport had faced with numbers ten times as big as it was the previous year, terminal modernization became a must. Nowadays Phoenix-Mesa airport successfully handles around 300,000 aircraft operations every year, which is around 800 operations per day. As for passenger traffic, yearly numbers aim to hit 2 million passengers mark. Phoenix-Mesa Airport parking services are sure to be expanded greatly.
The single-story renewed terminal building includes all the modern necessities that any tourist can desire. Delicious family restaurants, Bar&Grill, gift shops, vending machines and Mother's rooms. The terminal functions 24/7. In order to handle the ever-increasing passenger traffic, the east terminal expansion plans are in progress. The new terminal long-range plan is expected to be finished in 2030, the terminal will have 60 gates, and will provide services for around 20 million passengers.
Mesa Gateway Airport Parking
Phoenix-Mesa Gateway Airport parking options include the following: Economy lot, Hourly Express lot, Daily lot and a Cell phone lot. Parking at Mesa Airport is easy, the airport focuses on accessibility and comfort, as the closest and most convenient option - the Hourly Express lot, is located directly across the street from the main terminal building. Next in line is the Daily lot. This lot suits more for a few-day trip, due to its close position and average price. But if you're planning an extensive trip, you should probably draw your attention to the long-term parking at Mesa Gateway Airport. The Economy lot is located a bit further north, from the airport's terminal. Long-term parking near Mesa Gateway Airport is available in a huge outdoor parking lot, which also includes covered spaces. Special comfortable shuttle buses operate every 15 minutes from 5 shaded shuttle stops. All the buses are equipped with an automated pay station, which accepts both cash and credit card. It is recommended to save additional 15-20 minutes for the shuttle trip. All the Mesa Airport parking options are outdoor parking type lots, except for covered parking area in the south-east side of the Economy lot.
The Cell-phone lot is located a bit south of the Daily lot. This area is absolutely free to use, but please keep in mind that this lot is meant to be used only to pick up arriving passengers. No unattended cars are allowed.
Phoenix-Mesa Gateway Airport parking fees
Short-term parking (Hourly Express) Lot rates $1 per each half an hour, up to $18 per day. Daily Lot rates $1 per half an hour, up to $11 per day. Long-term parking, Mesa Gateway Airport Economy Lot, has a daily rate of $7. The Covered section of the Economy Lot is a bit more expensive - $11 per day.
Don't forget to use Mesa Gateway Airport parking coupons in order to get even better prices!
---
🅿 Book Parking Online NOW
---