Memphis Airport Parking
🅿 Book Parking Online NOW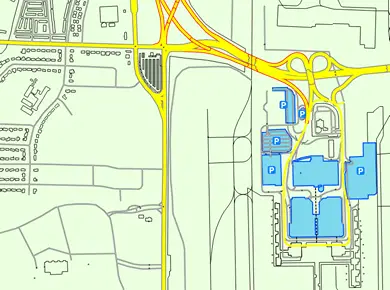 The "Home of the Blues" and the" Birthplace of Rock 'n Roll", the city of Memphis is the "mecca" of music lovers from all over the world as this city was where music legends such as Elvis Presley, Johnny Cash and BB King originated. Memphis Airport, located about 11 miles from downtown Memphis, is your gateway to this vibrant and soulful city. The airport handles more than two million passenger movement annually, and is served by seven air carriers which provide connecting and nonstop flights to major cities in the country, and the rest of the world. The airport has one terminal with 3 concourses, and 4 parking lots. Parking in the airport might hamper your get-go spirit, and through our website, we can assist you select amenities, calculate costs, and provide parking options for easy airport parking.
Memphis International Airport Parking
The airport has 4 parking lots in two covered facilities. The Economy Parking which has 4542 spaces is located at the 7 level Ground Transportation Center (GTC). The Long-Term Parking has 2225 parking spaces. The Short-Term Parking which has 487 spaces is located on the ground level of the three-story parking facility directly.  The Oversize Vehicle Parking has 180 parking spaces and is ideal for large vans, vehicles with trailers, RV's, tractor trailers, and commercial vehicles. The Memphis TN airport parking is really big that about 1,500 travelers annually seek assistance in finding their vehicles! Parking near Memphis Airport is a great alternative to on-site parking if you want to avoid the hassle of finding the perfect spot. All you have to do is park, hop on a courtesy shuttle, and be on your way! These are secured car parks that provide amenities and services such as valet parking, luggage assistance, car wash and emergency car care services.
Airport Parking Memphis Rates
For the Short-Term Parking, rate is $24 a day. Long-Term Parking costs $15 a day. Oversize Vehicle Parking costs $12 a day. Economy Parking is $6 a day. Parking stay is for a maximum period of 30 days, and unless you notify the parking office in advance, your car may be towed after 30 days. For car parks near the airport, these facilities offer discounted rates and you can park your car for as low as $4 a day!
Interested in finding more parking options? We can assist you select amenities, calculate costs and compare car parks for easy and stress-free parking.
---
🅿 Book Parking Online NOW
Memphis Airport Parking Map
Parking name
Phone number
---