McCarran Airport Parking
🅿 Book Parking Online NOW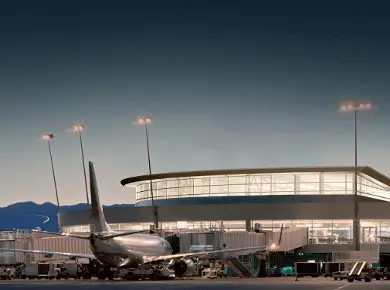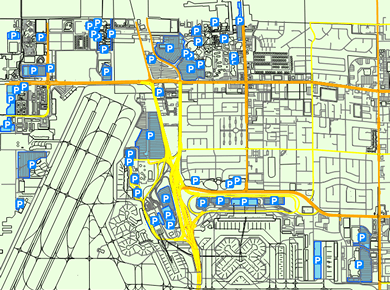 The 8th busiest airport in the country, McCarran Airport often called Las Vegas Airport, is your gateway to the city of Las Vegas, one of the top entertainment capitals of the world.  The city is home to a number of themed hotels with 24-hour casinos, top notch entertainment and shows, a dynamic and vibrant nightlife, and plays host to a number of conventions. The airport handles more than 47 million passenger movement annually, and is served by 30 air carriers linking the city to more than 145 destinations around the world. Although the airport has two separate terminal buildings with its own parking garage, parking at the airport can be confusing and daunting especially during the summer season and holidays. Through our website, you can choose from a variety of parking service, select amenities, and calculate costs, so you can save time and money for a stress-free trip.
Short & long term parking Las Vegas airport
Las Vegas Airport parking options are available in two terminals. Both terminals offer McCarran Short Term Parking, Long Term Parking, Valet Parking, Economy Parking, and Remote or Oversize Vehicle parking, as well as Motorcycle Parking, and Cell Phone Lot.
Parking near McCarran airport is an alternative to parking in the airport with several off-site lots and garages near the airport. Because the airport is just a few minutes from the downtown area, you can also consider car parks in the city. These car parks are very convenient especially for hassle-free parking, and if you want to avail of additional services including complimentary shuttle to and from the airport, luggage assistance, car wash, and car maintenance. For more information, consult with our professional staff who can provide you with more information on an array of parking service, select your amenities, and calculate costs.
LAS airport parking rates
For both terminals, Short Terming parking fees start at $2 for the first sixty minutes, and a daily maximum of $36. For Las Vegas Airport Long Term Parking, fees start at $3 for the first sixty minutes, and a daily maximum of $16. For Valet Parking, minimum fee is $6 and a daily maximum of $23. For Economy Parking, your cheap airport parking Las Vegas Airport option, parking fee starts at $3 for the first two hours, and a daily maximum of $10. Las Vegas off airport parking car park rates start at $4.50 if you redeem your McCarran airport parking coupons. Enjoy more savings and a trouble-free parking experience when you consult with our professional and friendly staff.
McCarran Airport Parking FAQs
How Much Does It Cost to Park at McCarran Airport?
The Clark County airport authority charges $3 for the first hour and then $1 for each additional hour, with a maximum daily rate of $16. If you park at the economy lot, the rate is only $2 per day.
Is there free parking at McCarran airport?
There is no free McCarran airport parking. All parking at the airport is paid for. The first thirty minutes of parking are free, but after that, prices vary depending on the length of time parked and the lot of location.
Where Can I Park Overnight at McCarran Airport?
If you're looking for a place to park overnight at McCarran airport, there are a few things you need to know. First, there is no designated parking area for overnight parking. However, you can park in the terminal parking garage or in the economy parking lot. If you choose to park in the terminal parking garage, be aware that you will be charged the daily rate. The economy parking lot has a lower daily rate, but it is located further from the terminals. 
Another option is to use one of the off-airport parking lots. These are typically run by companies that have a contract with the airport and offer shuttle services to and from the terminals.
What Is the Abbreviation for McCarran Airport?
The McCarran airport is typically abbreviated LAS. However, it is also sometimes written as MCI, which can be confusing to people unfamiliar with the airport. McCarran is the primary airport serving the Las Vegas metropolitan area and is one of the busiest airports in the United States. Consequently, many airlines use LAS as their preferred destination code. 
When searching for flights to and from McCarran, be sure to check all three codes (LAS, MCI, and possibly even Vegas) to ensure you are getting the best price and selection of flights.
Why Is McCarran Airport Changing Name?
McCarran airport changed its name to Las Vegas International Airport. 
The airport has changed its name in order to better reflect its role as an international airport. McCarran has long served as a major gateway for travelers coming to and from Las Vegas, but the name of the airport has not always accurately reflected that role. With the ever-growing number of international travelers using the airport, it's important that the name properly reflects the many destinations serviced by McCarran.
Las Vegas International Airport will be a more accurate reflection of the breadth and depth of service offered by McCarran, and it will also help to distinguish this airport from others around the country.
---
🅿 Book Parking Online NOW
McCarran Airport Parking Map
Parking name
Phone number
---