Mcallen Airport Parking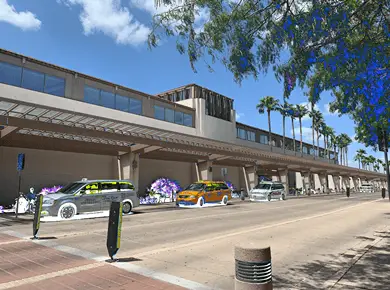 McAllen International Airport (MFE) is a public airport, located just few miles South of McAllen City, Hidalgo County, Texas, United States. Aeromar, Allegiant Air, American and United Airlines are operating non-stop scheduled flights to Mexico, Las Vegas, Dallas and Houston–Intercontinental. The airport is also served by two of the three global alliances, Star Alliance and Oneworld. MFE is the Rio Grande Valley busiest airline airport. Recent terminal expansion helps the airport to cope with more than 800,000 passengers and around 60,000 aircraft operations every year.
McAllen airport terminal is a one-story building that was greatly expanded in 2014. There are airline ticket counters, which are located to your right and baggage claim area, which is located to your left. The central hall leads to the Transport Security Administration and Gates 1-6 afterwards. Great food along with great coffee can be found at the CoffeeZone. CoffeeZone offers all kinds of hot and cold beverages, pastries, salads and delicious meals, both pre and post security checkpoint. There is also a Comfort Zone bar, which is located right after the security checkpoint. Great place to relax before the flight while enjoying cold drink and watching the busy airfield.
McAllen Miller International airport parking
McAllen airport parking offers two parking options for you to choose from: the Short Term parking and the Long Term parking, which basically is the Economy lot. All the parking lots are located right in front of the terminal building, within a short walk distance. It only takes to cross the street and McAllen Miller airport parking will be right in front of you. Small staircase divides to street and the parking lot, so be careful and watch your step. Parking lots are well lit and secured, providing the best vehicle security. Keep in mind, that both lots are outdoor parking type, so no weather protection can be guaranteed.
McAllen Miller International airport long term parking
McAllen airport long term parking or Economy parking lot is located right behind the Short Term one. The lot offers more parking spots and way better prices. This parking lot is the best option for long lasting trips, as every day cost is half as much as for the Short Term one.
McAllen International airport parking fees
McAllen airport parking rates do not apply for the first 30 minutes of parking. It is totally free for both Short and Long Term parking at McAllen airport. The Short Term lot at McAllen airport parking charges $1 for 31-50 minutes and $1 per each additional 20 minutes, up to $11 for staying from 3 hours 51 minutes until 24 hours. Each additional day will cost you $15. McAllen airport parking fees for Long Term parking also start at $1 for 31-50 minutes and $1 for each additional 20 minutes, up to $6 daily rate. Republic Parking system accepts cash, Visa, MasterCard and American Express.
---
Mcallen Airport Parking Map
---