Louisville Airport Parking
🅿 Book Parking Online NOW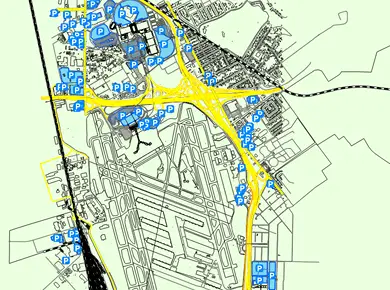 Louisville International Airport is used in both fields, public and military. It is situated in Louisville and provides services to approximately 3 million passengers. The airport works with several airlines, including American Airlines, American Eagle, Southwest Airlines, United Express, etc. Louisville International Airport parking offers a wide range of solutions for convenient car leaving.
Louisville airport parking conditions
First of all, it is important to mention that there is Reserved Parking Program in the airport. According to the information provided on its website, the program allows car owners to reserve a personal parking spot. It makes parking simple because a person doesn't need to wait in queue for his turn to leave a car. In addition to this, one can choose the best place for a vehicle and be sure that this spot will be for his car only. Sounds impressive, right? This option is divided into Premium Reserved Parking and Referred Reserved Parking.
Beyond that, the airport also offers standard long term, short term and valet parking options. Louisville airport long term parking solutions are provided on a daily basis, no hourly payments are allowed. You can use covered parking zones as well. They are located in special parking garages, situated on Levels 1-3.
Louisville airport parking rates
Louisville airport parking rates for long term car stays are $9/day. Weekly price is $54 with a free complimentary 7th day. People who prefer to pay without cash, can park at Credit-Card-Only Lot with a special rate - $11/day. Louisville airport parking fees for garage stays are $11/day and $13/day, depending on a garage.
You can park a car in a covered garage for several hours as well. In this case, the price for one hour is $2 in over-4-hours garage and $1 in under-4-hours garage. Valet Parking price is $24/day, for this money fast parking service is provided. Louisville airport parking coupons are used to get discounts. Search this website and find cost-efficient parking zones near Louisville airport!
---
🅿 Book Parking Online NOW
Louisville Airport Parking Map
---