Los Angeles Airport Parking
🅿 Book Parking Online NOW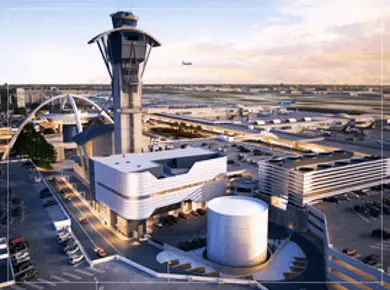 The third busiest airport in the United States, and the seventh busiest in the world, Los Angeles Airport (LAX) is a huge and dynamic airport that that serves more than 74 million passengers annually. It is served by 64 domestic and international airlines with 742 daily nonstop flights to 101 cities in the country, and 1,280 weekly nonstop flights to 42 countries across the globe. The airport has one central complex featuring nine passenger terminals that are linked by a U-shaped, two-level roadway. With so much going on in the airport, parking can be a problem especially if you want to just park and go. Through our website, you can choose from our extensive list of parking option, select amenities and calculate costs for easy parking at LAX.
LAX Parking
LAX has eight Central Terminal parking structures with approximately 8,000 parking stalls, all of which are located opposite the roadways from the passenger terminals. Aside from these parking lots, the airport also operates and Economy Parking – Lot E which has about 2,690 parking spaces. It is located about 15 minutes to the airport with a courtesy shuttle ferrying passengers to and from the central terminal area 24/7. The economy Lot E was open on March 28, 2019 instead of the Lot C which was closed to the public on April 1, 2019 to become an employee parking and a space for construction activities.
Los Angeles Airport parking can be pretty stressful especially during the holidays but there are parking options we can provide you that would take the stress away.
Los Angeles Airport Long & Short Term Parking Options
There are a number of car parks near the airport which are great alternatives for both short term and long term parking. You can just park your car, hop on their courtesy shuttle and be on your way without having to worry about finding a parking space. These car parks cater to passengers and they know what you need, a stress-free trip! Frequent travelers can avail of special rates, as well as for passengers who book their parking space beforehand or book online. These car parks facilities are well-lit, gated and monitored 24/7 by CCTVs and security personnel. They also provide amenities and services including luggage assistance, car wash, interior and exterior detailing, and valet parking.
LAX Rates
For the Central Terminal parking structures, parking costs $3 for the first hour, and $20 per 24 hours. For the Economy Parking – Lot C, parking costs $4 for the first hour, and $12 per 24 hours. The new long-term economy Lot E parking rate is $12 per day and $4 per hour, which is the same as parking Lot C. The Lot E can offer the following payment options: cash, credit cards, mobile payments (Apple Pay, Samsung Pay and Google Wallet). Car Park rates outside the airport ranges from $4.49 to $26.95 per day. We can assist you in selecting the amenities you want, compare and calculate costs, and find the best parking spot for your vehicle.
Los Angeles Airport Parking FAQs
How Much Does It Cost to Park at Lax Airport?
The cost of parking at LAX airport can vary depending on the lot and the time of day. In general, the cost is between $12 and $24 per day.
There are a few options for parking at LAX airport. The Long-Term Parking Lot is located on the lower level of the Central Terminal Area (CTA), and it offers both valet and self-parking options. The Daily Lot is located near Terminals 4 and 5, and it offers both short-term and long-term parking options. The Economy Lot is also located near Terminals 4 and 5, but it offers only short-term parking. There is also a Cell Phone Waiting Lot where drivers can wait for their passengers.
How Long Is Lax Free Parking?
The Airport offers free parking for the first 30 minutes in the Lower/Arrivals Level of each terminal. After the first 30 minutes, a fee of $2 per hour will be charged.
If you are picking up or dropping off passengers, the free parking area is located in the Lower/Arrivals Level in front of each terminal. If you are parking to catch a flight, please park in one of the garages and pay the applicable fee. 
Why Is LA Airport Called LAX?
It's called LAX because it's the airport for Los Angeles. The "X" is just an abbreviation for "Expo," which was the original name of the airport. When it was renamed LAX in 1952, the new name was intended to be temporary while a more permanent name was chosen. But the airport has kept the designation ever since.
Does Los Angeles Have 2 Airports?
Yes, Los Angeles has two airports - LAX and Burbank Airport.
LAX is the main airport in Los Angeles, and it's located in the Westchester neighborhood of the city. Burbank Airport is a smaller airport that's located in Burbank, which is a suburb of Los Angeles.
---
🅿 Book Parking Online NOW
Los Angeles Airport Parking Map
---