Airport Parking Heathrow
🅿 Book Parking Online NOW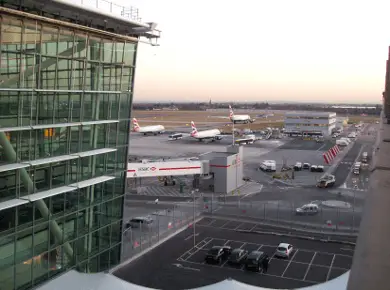 Listed among the top ten busiest airports in the world and the busiest airport in Europe, London Heathrow Airport (LHR) is United Kingdom's premier international airport.  The airport started as a small airfield in the hamlet of Heathrow, from which, the airport is named after. The development of the area to a larger airport began in the 1940s and continued on till the present day. In 2016, the airport handled a staggering 75.7 million passenger movement, with 473,231 recorded air transport movement in the same year. The airport is served by 81 air carriers flying to 82 countries across the globe. The airport used to have five terminals but terminal 1 was permanently closed in 2015. Each of the remaining terminal has its own Heathrow parking options. Parking can be little frustrating and confusing, given that the airport is busy all year round, and through our website, you can choose from our wide selection of parking service, calculate costs, and select amenities, for stress-free and easy parking at London Heathrow Airport.
Terminal 2 Heathrow Parking
Terminal 2 caters basically to European destinations. It has both a Short Stay car park and a Long Stay car park shared with Terminal 3. The Short Stay car park is located right next to the terminal, and you can book your spot in advance for a stay of two hours or more.  
Terminal 3 Car Park Heathrow
Terminal 3 is used by 18 airlines and operates long-haul flights across the globe. Heathrow parking t3 short stay is next to the terminal, and ideal for dropping off and picking up passengers, and for passengers who are going on a quick trip. You may book your Heathrow parking short stay in advance to avail of cheap parking at Heathrow terminal 3. Car parking Heathrow terminal 3 Long Stay is shared with terminal 2.
London Heathrow Terminal 4 Parking
Terminal 4 is used by 35 airlines and operates long-haul flights to major destinations all over the world. It has both a Short Stay and a Long Stay Car park, catering the needs of the passengers whether it's for a long trip or short stay.  
Airport Parking Heathrow Terminal 5
The newest terminal of the airport, Terminal 5 is exclusively used by British Airways and Iberia. LHR t5 parking options include a short stay car park, long stay car park, meet & greet service, pod parking and valet parking.
Offsite Parking Options
Aside from the official Heathrow Airport parking options, there are a number of car parks and garages near the airport and in the city which are great alternatives to airport parking London Heathrow Airport. These car parks are well-lit, gated and monitored, and may provide amenities and services including courtesy shuttle, luggage assistance, and valet parking. They also offer Heathrow parking deals and when applied, you might be able to enjoy the cheapest Heathrow airport parking option. We can assist you by providing more information about a variety of parking service, compare the airport parking reviews, calculate Heathrow parking fees, and furnish you with details about amenities and services, ensuring that you can avail of the best Heathrow parking spot and cost.
Parking costs at Heathrow
If you are wondering how much is parking at Heathrow Airport, short stay parking in all terminals start at £11.30 for 1 to 2 hours, and £59.50 for 12 to 24 hours. For Long Stay parking, parking is free for the first two hours, £27.30 for the first day, and £21.60 for each additional day. You can avail of discount parking Heathrow airport if you pre-book your spot. For offsite parking, you can save as much as 70% in parking costs when you pre-book, use your airport parking codes, or avail of their special rates. Don't stress yourself out before the trip because of parking concerns. We will gladly assist you find the car park that best suits your needs.
---
🅿 Book Parking Online NOW
Airport Parking Heathrow Map
---