Airport Parking Heathrow
🅿 Book Parking Online NOW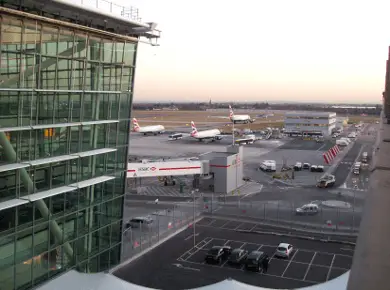 Are you planning on taking a flight soon, but the Heathrow Airport parking situation is a worry on your mind? We're here to help! Finding a great, secure parking spot at any airport can be an inconvenience, which can eventually make people ditch the car and use public transport. Thankfully, we're here to simplify things, give you the chance to explore the best alternatives, find the lowest prices, and enjoy a hassle-free trip. Before we dive into the available airport parking services at Heathrow, it's time you find out a thing or two about this iconic airport.
About London Heathrow (LHR) Airport
London Heathrow Airport is one of the best airports in Europe and globally. With an annual number of over 80 million passengers, LHR is the home of 84 different aircraft companies that serve 203 destinations in 84 countries from all over the world.
Formerly known as London Airport, Heathrow's story began back in 1929. What started as a small airfield grew to be the busiest European airport. After World War Two ended, the airport noted significant growth, and it's been an unstoppable force of nature ever since. What used to be a facility made of five terminals, is now downgraded to four, but that doesn't mean the airport is losing traffic. On the contrary, it's still a top-performing location and won the second spot in the world by international passenger traffic for 2019.
What causes most concerns for travelers is the Heathrow parking. The good news is that each terminal has various alternatives; therefore, there is a convenient alternative for everyone who needs to leave their car. Using our website, you can find the best possible options at car parking Heathrow Airport, explore various amenities, research the lowest price, and have a pleasant start to your trip. Before you start browsing, you can go over some estimated prices to be prepared for what's to come.
How Much Is Parking at Heathrow Airport?
Parking a car at the airport when you need to travel is a convenient option, but how much will it cost? There are both on-site and off-parking solutions, all of which come at a different cost. In addition, parking prices will vary depending on the length, booking time, parking company, and type of airport parking you'll choose.
If you're looking at the Short Stay option, you can expect to pay at least £11.30 for a stay of 1 to 2 hours on all terminals. However, when you want to leave your vehicle in a designated airport parking space for a timeframe between 12 and 24 hours, the prices start at £59.50. The Long Stay parking is slightly less expensive, and starts at £27.30 for the first day, and costs £21.60 for every following day. The good news about this alternative is that the first thirty minutes are free.
The prices that we listed are subject to changes, especially if you opt for pre-booking. Did you know that you can save up to 70% on airport fees if you book parking online before your airline travel date? Our mission is to help you find the best parking for your needs and the cheapest deals possible.
Choosing Your Airport Parking: London Heathrow
Although labeled as one of the busiest airports in the world, Heathrow has an abundance of airport car parks to cater to the needs of passengers. Currently, the airport has four working terminals since Terminal 1 was closed six years ago. Here are the Heathrow parking products you can choose from, depending on your travel plans and needs:
Short stay

Valet parking

Meet & greet

Long stay

Business parking

POD parking
Heathrow Airport Parking Terminal 1
Heathrow Terminal 1 was officially closed in June 2015 to serve as a ground for expansion for Terminal 2. After the last flight to Hanover on June 29, 2015, this terminal became a part of history. Before dropping the curtains, Terminal 1 was occupied by the International Airlines Group and a base for primarily European flights.
Heathrow Airport Parking Terminal 2
The Queen's Terminal is a base of the Star Alliance, Eurowings, JetBlue, Icelandair, and Aer Lingus. Terminals 2 and 3 are tightly connected and share their Long and Business parking options. The short-term parking is within a 2 to 5-minute walking distance from Terminal 2, which makes it an excellent alternative for people who carry a lot of luggage, families, or passengers who are away on short trips. In addition, short-term car parks on all terminals are equipped with 24/7 security and outlets for electric car charging.
The long-term parking is located slightly further from Terminal 2; however, the good news is that you can get a transfer bus available every 10 minutes. Business, Meet & Greet, and valet are also available options for this terminal.
Heathrow Airport Parking Terminal 3
This terminal is the home of several Oneworld members, Delta Air Lines, Middle East Airlines, and more. It opened in 1961 and today has 28 gates. As mentioned before, Terminal 3 is connected to Terminal 2; therefore, you can expect to find the same parking alternatives. The Short Stay parking is right next to the terminal, making it easy for travelers to reach it. The Long Stay and Business alternatives are shared with Terminal 2. Meet and Greet and Valet are other options to keep in mind.
Heathrow Airport Parking Terminal 4
With 22 gates and 45 airlines, Terminal 4 works with flights from the Middle East, Central Asia, and North Africa. It's connected to the previous two terminals with the Heathrow Cargo Tunnel and offers the same parking options. Its short-term alternative is within walking distance, while the Long Stay parking requires a shuttle bus with transfer times between 5 and 7 minutes. Don't forget that you can also opt for Business, Meet and Greet, and Valet parking.
Heathrow Airport Parking Terminal 5
Terminal 5, voted as the world's best terminal in the 2014 Annual World Airport Awards, is the home of the International Airlines Group (British Airways and Iberia). This terminal offers the same airport parking experience (short, long, business, meet and greet, valet), as Terminals 2,3, and 4, with added specialized POD alternative (currently unavailable due to the pandemic).
Offsite Parking Options
On-site airport parking options are excellent, but what happens if you prefer to park outside LHR? Some people find airport parking lots too crowded and don't mind taking the 10 to 15-minute ride to a nearby location to park their car.
Thankfully, there are numerous car parks located very close to the airport, so that's your best bet at getting the cheapest parking. Don't let the location discourage you because you'll easily find a secure car park that costs less than airport charges but with the same amenities. These locations offer packages that include complimentary shuttle rides, monitoring services, valet, etc. With our assistance, you'll learn more about each parking option, which amenities they offer, services, companies, and costs.
Another great alternative is looking at hotels with parking. Numerous near-airport hotels are perfect for travelers who arrive late and prefer resting before they continue with their schedule or sleep near the airport before an early flight. What's even more important, each one of these top-notch hotels offers a parking package that will come at a low price. LHR is also affiliated with various hotels near their Long Stay Car Parks and offers exclusive discounts when you decide to spend a night.
FAQs
Can I pay on the day for airport parking Heathrow?
Yes, paying on the day is an option; however, it will be much more expensive. So if you're looking for the cheapest price, it's best that you book in advance. The booking process is straightforward, only takes a few minutes, and the pre-book saving is substantial.
How do I book airport parking London Heathrow?
For everyone interested in the cheapest airport parking option we recommend online booking. Pre-booking can save you a lot and also score you the ideal spot. If you're still unsure about what you need, let us help you scout the possible alternatives and give you a list of prices.
Once you find the best one and check out, you'll get a booking confirmation that will list all the details, including the arrival procedure, location, etc. Double-check if all the information is correct, and you're ready to go!
---
🅿 Book Parking Online NOW
---