Lambert St Louis Airport Parking
🅿 Book Parking Online NOW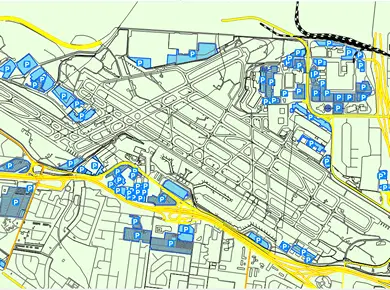 The largest and busiest airport in the state of Missouri, St. Louis Lambert International Airport (STL) is located about 14 miles from the heart of the city of St. Louis. The airport is named after Albert Bond Lambert, a prominent St. Louis aviator who dedicated his life in making the city a leader in aviation.  The airport which was established in 1923 handles almost 14 million passenger movement annually. It is served by 11 air carriers with 65 non-stop flights to the major cities in the US, Cancun, Mexico, and Toronto, Canada. The airport has two terminals with garage facilities attached to it, as well as surface lots within walking distance to the terminals. Parking can be a little confusing as there are many options within the airport and off-site. For easy airport car parking, our staff will gladly provide you more information about parking options, amenities, and compare costs.
Lambert Airport Parking Options
Terminal 1 and Terminal 2 Parking areas are covered parking and ideal for short-term parking. There are also five parking lots, A, B, C, D, and E, that are great options for those who do not mind walking or taking the shuttle to the terminal. Long term parking St. Louis Lambert Airport is cheaper in these lots.
Aside from the official parking lots of the airport, there are many parking garages and lots near the airport or in the city which are alternatives to parking on-site. Some of these parking garages offer free shuttle to and from the airport, valet parking, baggage assistance and car maintenance. If you decide to park in the city, you can reach the airport via the Metrolink, local Metrobus, express airport shuttle service, or taxi. Not sure which is the best option? Consult with our staff about the best parking option for your needs.
STL Airport Parking Rates
Terminal 1 and 2 parking rates starts at $5 for up to two hours, and $23 from 12 to 24 hours. Lot A rates starts at $ 9 for the first 6 hours, and $15 for 12 to 24 hours. Lot B has a flat rate of $10. Lot C rate for covered parking starts at $6.50 and $5.50 for uncovered parking. Lot D has a flat rate of $7. Lot E rate starts at $5 for the first two hours, and $20 for 6 to 24 hours.  Off-site parking rate varies and we can assist you in comparing costs, select amenities you want, and find you the perfect parking spot.
Lambert St Louis Airport Parking FAQs
How Much Is Parking at the St. Louis Lambert Airport?
The Lambert Airport parking cost varies depending on the length of time you park. The short-term lot (located near the terminal) is $2 for the first hour and then $1 for each additional hour, with a maximum daily rate of $10. The long-term lot is located farther away from the terminal and costs $2 per hour, with a maximum daily rate of $16.
Is Parking at Lambert Airport Safe?
Yes, parking at Lambert airport is safe. The airport offers a variety of parking options, including both short- and long-term parking, as well as valet service. In addition, the airport is patrolled by security personnel 24 hours a day, so you can feel confident leaving your car in the lot.
If you're looking for a quick and easy way to get to the airport, the shuttle service offered by Lambert is a great option. The shuttles run continuously from 4:00 AM to 12:00 AM and make stops at all the major hotels in St. Louis. Plus, if you park in one of the garages at the airport, your shuttle ride is free!
Why Is Airport Parking Expensive?
There are a few reasons why airport parking is more expensive than other types of parking. First, airport property is generally much more valuable than other types of property, so the land on which the parking lot is built is worth more money. Second, airport parking lots are typically open 24 hours a day, 365 days a year, which means that they have to be well-lit and staffed at all hours. This increased security and maintenance cost money. Finally, because of the high volume of traffic at airports, parking spaces turn over more quickly, so the demand for them is higher and the price goes up accordingly.
Can You Fly Internationally from St. Louis?
Yes. You can fly internationally from St. Louis, but you'll first need to take a connecting flight through another airport.
St. Louis is a major airport with international connections, but it doesn't have nonstop flights to all international destinations. If you're looking to fly directly to London, for example, you'll need to first fly to Chicago or New York and then catch a connecting flight from there.
But if you're willing to make a stop along the way, there are plenty of great international destinations that are accessible from St. Louis. Just be sure to check the airport's website for up-to-date information on which airlines offer service to your desired destination.
How long does it take to get through St. Louis airport security?
The amount of time it takes to get through airport security depends on a few factors, including the time of day, the amount of traffic, and the specific checkpoint you are going through.
Generally speaking, though, most people will average about 30 minutes from the time they get in line until they are cleared to leave. However, there are occasionally longer wait times, especially during peak travel times.
If you want to avoid any potential delays, it's always a good idea to arrive at the airport well ahead of your departure time. And be sure to check with your airline for specific guidelines on what items you are allowed to bring on board.
---
🅿 Book Parking Online NOW
Lambert St Louis Airport Parking Map
---