Lambert St Louis Airport Parking
🅿 Book Parking Online NOW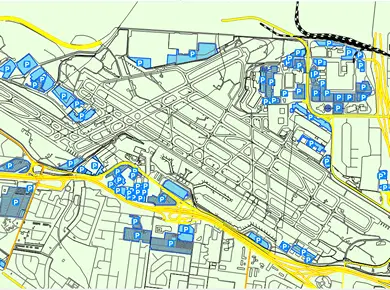 The largest and busiest airport in the state of Missouri, St. Louis Lambert International Airport (STL) is located about 14 miles from the heart of the city of St. Louis. The airport is named after Albert Bond Lambert, a prominent St. Louis aviator who dedicated his life in making the city a leader in aviation. The airport which was established in 1923 handles almost 14 million passenger movement annually. It is served by 11 air carriers with 65 non-stop flights to the major cities in the US, Cancun, Mexico, and Toronto, Canada. The airport has two terminals with garage facilities attached to it, as well as surface lots within walking distance to the terminals. Parking can be a little confusing as there are many options within the airport and off-site. For easy airport car parking, our staff will gladly provide you more information about parking options, amenities, and compare costs.
Lambert Airport Parking Options
Terminal 1 and Terminal 2 Parking areas are covered parking and ideal for short-term parking. There are also five parking lots, A, B, C, D, and E, that are great options for those who do not mind walking or taking the shuttle to the terminal. Long term parking St. Louis Lambert Airport is cheaper in these lots.
Aside from the official parking lots of the airport, there are many parking garages and lots near the airport or in the city which are alternatives to parking on-site. Some of these parking garages offer free shuttle to and from the airport, valet parking, baggage assistance and car maintenance. If you decide to park in the city, you can reach the airport via the Metrolink, local Metrobus, express airport shuttle service, or taxi. Not sure which is the best option? Consult with our staff about the best parking option for your needs.
STL Airport Parking Rates
Terminal 1 and 2 parking rates starts at $5 for up to two hours, and $23 from 12 to 24 hours. Lot A rates starts at $ 9 for the first 6 hours, and $15 for 12 to 24 hours. Lot B has a flat rate of $10. Lot C rate for covered parking starts at $6.50 and $5.50 for uncovered parking. Lot D has a flat rate of $7. Lot E rate starts at $5 for the first two hours, and $20 for 6 to 24 hours. Off-site parking rate varies and we can assist you in comparing costs, select amenities you want, and find you the perfect parking spot.
---
🅿 Book Parking Online NOW
---