Knoxville McGhee Tyson Airport Parking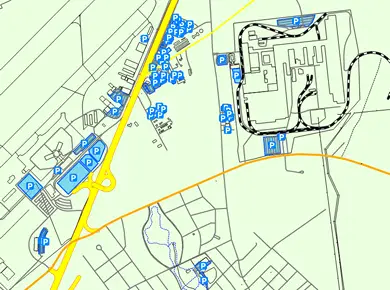 McGhee Tyson Airport (TYS) is a public-military mixture airport, situated south of Knoxville, in Alcoa, Blount County, Tennessee, United States of America. Since it was able to handle 10 thousand of passenger enplanements in 2011-2015 FAA rated this airport as primary commercial service airport. Currently Tyson McGhee airport provides more than 100 000 aircraft operations and roughly 2 million passengers transitions annually. McGhee Tyson Airport includes two levels terminal building and two parallel runways. There are ticket counters, gates, cafes and shops at the upper level. It can be accessed via the curbside drop off and the garage. The ground level offers baggage claim areas, different offices and car rental services.
Knoxville airport Parking Options
Interested where to park at Tyson McGhee? TYS offers four options: Phone & Wait area, Short-term Garage, Long-term Lot and Economy lot. Also there is an off-airport Hilton Knoxville airport parking.
Free Phone & Wait area is specially designed to fit the need for a really short term parking, when you just need to wait for the arrivals and pick them up. Parking time there is limited and you cannot leave your vehicle unattained, otherwise it can be tugged away with further expanses. This Cell Phone area is bordering the Long-term parking lot. The Short-term Garage parking is available right opposite from the passenger terminal, it takes only 5 minutes' walk time to get there. Long-term parking is available in a covered lot, that is directly next to the short-term lot, 10 minutes of walk time to get there. Economy lot represents cheap airport parking at Knoxville. It is an uncovered parking lot, that is situated approximately 15 minutes away from the main terminal. There is a special free of charge shuttle but service, that can take you to the Terminal and back. All the parking lots work 24/7, 7 days a week. MStar Hotel parking is located very close to the Knoxville airport. Hilton Knoxville airport parking offers free shuttle-bus service that is available 24/7 and can arrive on call.
Tyson McGhee Airport Parking Fees
McGhee Tyson airport long term parking rates $1 per each 20 minutes, up to daily maximum $12.
Short-term Garage costs $1 per each 20 minutes, up to daily maximum $18.
Economy lot costs $1 per each 20 minutes, up to daily maximum $10.
MStar Hotel parking costs $5 per day.
Don't forget to use McGhee Tyson airport parking coupons to get a nice discount and make your stay even more comfortable and cost-effective!
Easy Parking Guide
Our easy car parking guide is simple to use. Just type in your country, city or airport and you'll be taken to a page with a complete description of the facility. You choose whether you need parking for a car, motorcycle, or bike and whether you'll need a child seat or shuttle bus. We provide you with a complete list of options, beginning with the lowest price. Our map displays all your parking options clearly, as well as their distance to the airport. If you are flying internationally, you can also find international airport reserved parking.
Calculate Cost
Each travelers' needs are unique, and there are many different amenities to choose from when it comes to airport car parks. Important things to consider are whether airport car parking facility has baggage assistance available, a travel agent on hand, valet parking available, and whether or not the lot is secure. You'll also want to know whether the lot offers indoor or outdoor parking or both. Other amenities that may be available include car rental services, CCTV, car wash services, and 24-hour availability. Our system allows you to compare available parking spaces by amenities to ensure the airport parking lot you choose has everything you need.
Having Problem?
Our easy parking guide lets you immediately calculate the cost of your airport car park space too. Once you have compared all spaces that are available, choose the one that is right for you and our system immediately calculates the cost. It's one less thing you have to be concerned with at the airport, and you'll have peace of mind knowing there's a reserved parking lot waiting for you, as well as exactly what your parking costs will be.