JFK Airport Parking
🅿 Book Parking Online NOW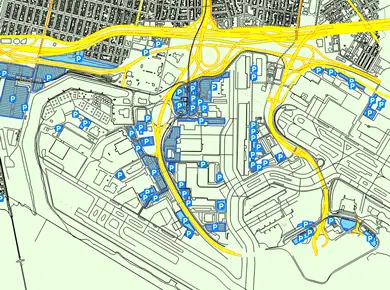 One of the busiest airports in the world, JFK Airport is also the fifth busiest airport in the United States.  It is the main international airport for New York City and its surrounding areas. The airport was once known as Idlewild until it was renamed to John F. Kennedy International Airport in 1963 to honor the nation's 35th president.  The airport is served by 85 air carriers to 165 nonstop domestic and international destinations. The airport handles more than 50 million passenger movement annually with more than 125 aircraft gates serving the airport's six terminals. Although it offers more than 15,000 public parking Kennedy Airport parking can be stressful especially if you want to be on the go. With our assistance, you can choose a parking service, select amenities and calculate costs, making your airport car parking a piece of cake.
JFK Airport Parking
There are a number of options for Short Term Parking JFK.  The Green, Orange and Red Parking Garage located adjacent to Terminals 1 through 8, are ideal for short term or daily parking, as well as the Blue and Yellow Parking garages located adjacent to Terminals 1. For long term parking JFK., the JFK On-Airport Long-Term Lot 9/Economy Lot located four miles from Terminals 1 through 8 is also ideal for overnight parking JFK.
There are car parks offering New York airport parking which are convenient alternatives to parking at the airport. These car parks can provide valet parking JFK Airport, courtesy shuttle, luggage assistance, car wash, car maintenance, and other services you may require.   Parking your car in one of the car parks located in the city which does not provide shuttle services to the airport is not a problem because you can take the public subway or buses, light-rail service AirTrain, taxis or limo to the airport which is about 18 miles from midtown Manhattan.  Through our website, you can choose a parking service, select amenities and calculate costs.
Parking at JFK Cost
If you are wondering how much is parking at JFK, an hour of parking at the short term parking lots range from $8 to $10, and $35 to $39 for 24-hour maximum. Long term parking fee is $18 for the first 24 hours. For NYC airport parking, some car parks offer special rates and big discounts when you redeem your JFK parking coupons, aside from knock-off parking rates for pre-booking and online reservations. Need more information about parking services? Our staff can provide you with parking options, compare and calculate parking costs, making your Big Apple parking a pleasant experience.
JFK Airport Parking FAQs
How Much Does Parking Cost at JFK Airport?
There are many factors that determine the cost of JFK Airport parking. The most important factor is the length of time you will be parking. Daily rates start at $18.00 but can increase to $30.00 for longer stays. Additional fees may also apply, such as a surcharge for overnight parking or peak travel times. Some airlines also offer their own off-site parking options, which may be cheaper than the airport's official parking lots. To get the best deal on JFK Airport parking, it's always best to compare rates and options in advance.
What Is the Best Long-Term Parking at JFK?
The best long-term parking at JFK is in the long-term parking lot. The cost is $22 per day.
Explanation:
The best long-term parking at JFK is in the long-term parking lot. The cost is $22 per day. Parking in this lot will allow you to park for an extended period of time, and the shuttle service to and from the airport will make traveling a breeze. Make sure to arrive early enough to catch the shuttle, as it tends to fill up quickly!
Is JFK Long-Term Parking Safe?
JFK Long-Term Parking is considered safe because it is patrolled by friendly, professional parking attendants 24/7. In addition, the parking lot has bright lighting, security cameras, and a security gate that borrowers must pass through to park their vehicles. If you are looking for a safe and secure place to leave your car while you travel, JFK Long-Term Parking should be at the top of your list.
Which City Is JFK Airport In?
Correctly identifying the airport as JFK is important because travelers may confuse it with LaGuardia Airport, which is also in New York City. JFK is one of the busiest airports in the world and is located in the borough of Queens. It was originally named Idlewild Airport before being renamed in 1963 after President John F. Kennedy. 
JFK International Airport consists of six terminals that are spread out over more than 2,000 acres of land. The airport sees over 50 million passengers each year and offers nonstop service to destinations all over the globe. Some of the airlines that fly into JFK include Delta, American, British Airways, Emirates, and Virgin Atlantic. 
---
🅿 Book Parking Online NOW
Parking name
Phone number
---