Dayton Airport Parking
🅿 Book Parking Online NOW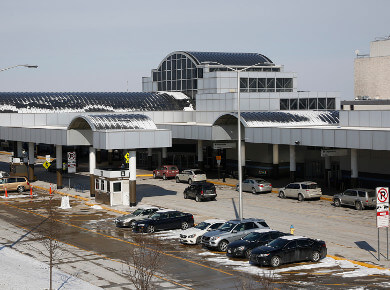 While travelling, one of the most necessary things is airport parking, Dayton airport isn't an exception. Dayton International Airport operates 24/7 to meet all travellers' needs and provide high-level services to them. Dayton Ohio airport parking is arranged in a convenient way to make parking experience successful. However, its rates aren't suitable for any budget and it's always better to consider all options.
Dayton international airport parking options
Every traveler dreams of a cost-efficient and, at the same time, reliable place to leave a car. As many other airports, Dayton international airport parking includes several areas for leaving a vehicle. One of them is economy lot, oriented towards people with the lowest budget. The airport also has long term and short term parking zones. Long term zone is newly reconstructed and, in addition to this, it is located near the terminal.
As for short term parking, it has a special card system and now one can use it without tickets. The only thing you need is a card that is used while entering the area and when you are leaving it. The result? It saves some time and helps to avoid various troubles connected with tickets. If you are interested in a covered place for your car, then consider a garage in the airport. It is located at levels 2 and 3 and also has a short distance to the terminal.
If you are very busy when flying somewhere, you can use valet parking services. Parking at Dayton international airport with valet services allows to forget about all parking fuss and get concentrated on your pleasant travel. A Valet Booth is at your disposal just near the terminal. Finally, you can use an overflow parking lot in the periods of big passengers volume.
Dayton airport parking rates
Dayton airport parking rates are common for this area. In comparison, an economy parking lot will cost you $4.95. A covered garage parking price is $18/day. Speaking about long term parking, Dayton airport offers the price of $14/day. If to consider short term parking, its cost is $24/day.
Those people who are going to use valet services, should prepare approximately $20. According to price options, a valet parking costs $10/0-4 hours, $2/each additional hour. When there is a peak of air travels, passengers are allowed to use an overflow parking that has a flat rate - $4.95. If you are planning to have a long trip, then be ready to pay weekly rate - $34.65. Some travellers use Dayton airport parking coupon as well, it helps to save some money.
Use our website to find the best and the most cost-efficient solution for parking near the airport without spending much money!
---
🅿 Book Parking Online NOW
Dayton Airport Parking Map
Parking name
Phone number
---