Huntsville Airport Parking
🅿 Book Parking Online NOW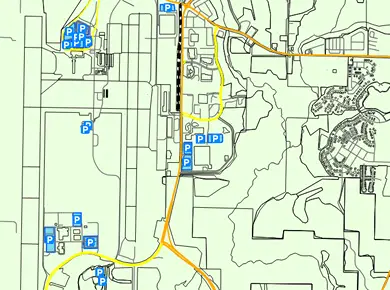 Huntsville International Airport (HSV) is a public airport in Madison County, Alabama, United States of America. FAA recognized HSV as primary commercial service airport, operating roughly 1.2 million passengers every year. This airport is often used as an alternative airport for such big hubs as Atlanta, due to this airports long runways and modern snow removal and de-icing equipment. HSV is mostly operated by four airlines representing the three international airline alliances. American Airlines, Delta Airlines, Frontier Airlines, Silver Airways and United Airlines are most popular airlines to fly to and from Huntsville airport.
Huntsville International Airport Parking Options
Huntsville airport offers a five-floor Garage building with both short and long stay options. HSV short term parking is situated on the first level. HSV long term parking is on level 2-6. This underroof SmartPark Garage is fitted with smart signs that will show if parking spaces are vacant or not. The top floor offers uncovered parking spaces only. The trip between the garage and main terminal takes only a few minutes via two covered skywalks, leading directly to the second level of the terminal.
Huntsville airport economy parking. There are three economy lots available just for you to choose from right behind the garage. All of them are very easy to reach via skywalks placed all around.
There is also a special pick-up and drop-off indoor parking zone right in front of the terminal. This park is free to use for the first 10 minutes. This is a perfect choice for those who just came to deliver passengers or collect arrivals. No unattended vehicles are allowed.
Huntsville Airport Parking Rates
First 30 minutes of parking is totally free in every parking lot!
Short-term parking (level 1) costs $2 per hour up to daily max $24.
Long-term parking (level 2-6) costs $2 per hour up to daily max $10.
Economy lots cost $2 per hour up to daily max $8
All the parking lots are using SmartPark system, you can pay for parking on your way out, where automated lanes for credit cards are situated.
You can also choose the practical and affordable off-airport hotel parking which is located right next to the parking garage. It is an uncovered Huntsville Marriott parking lot, that costs only $7 per day.
---
🅿 Book Parking Online NOW
Huntsville Airport Parking Map
---