Harrisburg Airport Parking
🅿 Book Parking Online NOW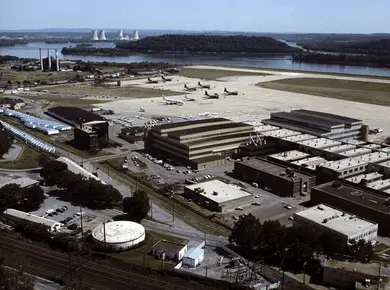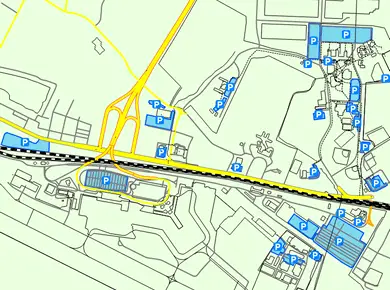 Harrisburg International airport or MTD (Middletown referring) is the primary commercial airport in Lower Swatara Township, Pennsylvania. It is ranked third as busiest airport of Pennsylvania for passengers and cargo transportation operations. The airport includes one Main Terminal with 12 gates, a Multi-Modal Transportation Facility that is connected to the Terminal via sky bridge and one runway, nevertheless it handles more than 1 million passengers every year. Transportation Facility operates all the ground transportation services like public parking lots, hotel shuttles, airports charter buses, rental car services and other.
Harrisburg Airport Parking Options
Harrisburg international airport parking offers a few interesting options to choose from. Here you can look at four available variants: Garage Parking Lot, Long-Term Parking, Cell Phone Lot and Xpress PARK.
Garage Parking is a covered indoor Lot that is directly connected to the airport via walkways and climate-controlled Sky bridge. This Lot is a perfect match for both long and short term stay. Long-Term Parking in Harrisburg is a great cost-efficient alternative. This cheap parking at Harrisburg airport is situated just 1 mile away from the Main Terminal. You can get there by scheduled bus that makes trips roughly every 10 minutes. Cell Phone Lot is a perfect place to stay free of charge and wait for your arrivals, just don't leave your car, because unattained vehicles are strictly prohibited. Every unattained car will be towed away with further expenses added. You need to follow the blue signs to get there. Xpress PARK program was developed specifically for frequent travelers. By being a member of this program you can enter and leave Parking Lots with just one swift of a member card, and no need to stay and wait in long lines! All parking lots are open 24/7, 7 days a week. Payment may be received trough cashiers (with cash or credit cards), machines (all major credit cards) or Xpress PARK credit card.
Harrisburg Airport Parking Rates
Garage Parking costs $2.20 per 30 minutes, $4.40 per 1 hour and $20.00 per day.
Long-Term Parking costs $2.20 per 30 minutes, $4.40 per 1 hour and $9.50 per day.
Xpress PARK membership costs $10. For parking for more than 96 hours altogether you'll get a discount $15 per day, instead of standard $20.
Don't forget to make use of your Harrisburg Airport Parking coupons. Make your parking even faster, easier and cheaper than ever!
Harrisburg Airport Parking FAQs
How Much Does It Cost to Park at the Harrisburg International Airport?
The Harrisburg International Airport offers a variety of parking options to cater to different needs and budgets. The rates for the Harrisburg Airport parking options are as follows:
Short-Term Parking: $2 per hour or $10 per day
Long-Term Parking: $8 per day
Economy Parking: $4 per day
There is also a valet parking service available for $20 per day. 
Why Is Harrisburg Airport Called MDT?
MDT is an acronym for the airport's former name, Harrisburg-Muir Airport. The airport was renamed in December 2014 to honor Senator Harris Wofford.
Where Do I Pick Up Arrivals at Harrisburg Airport?
To pick up arriving passengers at Harrisburg International Airport, travelers must go to the baggage claim area on the Lower Level of the Terminal Building. There are four baggage carousels in the baggage claim area. After claim tickets are collected from airline personnel, proceed to the carousel that corresponds to their flight number. Signs are posted in the lobby and on each carousel, indemnifying flight numbers.
Does Harrisburg Airport Have TSA Precheck?
Yes, Harrisburg airport does have TSA Precheck. It is a very popular service, and because of that, it's always best to arrive early so that you can get through security as quickly as possible. Enjoy your trip!
 
---
🅿 Book Parking Online NOW
Harrisburg Airport Parking Map
---