Harlingen Airport Parking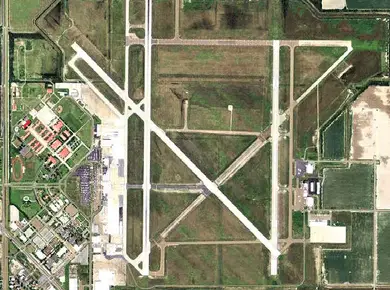 Valley International Airport (HRL) is locate in the City of Harlingen, Cameron County, Texas, United States. It is the most comfortable gateway in South Texas, arranging global air access for the whole Rio Grande Valley. Being the largest airport in the Rio Grande Valley, HRL works with Southwest Airlines, United Airlines, American Airlines, Frontier Airlines, Delta Air Lines and Sun Country Airlines Harlingen airport. Serving almost 700,000 passengers and 40,000 airport operations every year.
HRL airport has a compact but very welcoming three-story terminal building. The first floor greets you with spacious hall and cozy waiting area around a fountain, the baggage claim area and ground transportation to your right and ticketing desks, check-in area and car rental booths to your left. You can also find Rio Grande gift shop right after the terminal entrance. The second floor holds Island Restaurant and Coffee where you can find all kinds of breakfast, lunch and dinner options, and beverage bars like The Pelican Bar and Padre Pub with beer and wine selections. If you're traveling with family, kids would love to spend some time at Kids Port. The area includes variety of play tunnels, child seats and toys. Business travelers may find useful the amenities at Valley International Airport's 3rd Floor Conference Room that can be rented during regular working hours. Nowadays no public place can be imagined without Wi-Fi access, which is why Valley International created the free Wi-Fi zone. The third floor holds seven gates. Gate 1 is operated by Frontier Airlines and Sun Country, Gate 2 by Delta, Gate 4 by American, Gates 5 and 6 by Southwest, and Gate 7 by United.
Valley International airport parking information
Harlingen airport parking offers two options: the Short Term lot and the Long Term lot. The Short Term parking lot is located right across the terminal building. This is the most convenient option for a brief use and it's not hard to find an empty parking space. Harlingen airport Long Term parking is located right behind the Short Term one. It is twice as big and is more suitable for long-lasting trips. Both car parking options are operated by friendly and helpful attendants as well as 24 hours security parking facilities that in combine with well-lighted area can provide safe and secure place to leave your vehicle.
Harlingen airport parking prices
Harlingen airport parking fees start to charge after the first 30 minutes at the Long Term lot (first 30 minutes free parking). Each hour after cost $1.50, up to daily maximum of $7. The Short Term Harlingen airport parking rates $1 per each 20 minutes up to daily maximum of $10 (no free parking time available).
The Valley airport parking lot offers special monthly rates that cost $75. You can receive and fill the contract at the checkout booth and receive a parking sticker that needs to be displayed on the car dash before leaving.
There is no car wash available at the airports parking lot. If you want your vehicle to be washed and vacuumed you can check other parking operators and compare them with our online parking guide. You can also use our online web-site parking guide and calculate the full cost of your parking in just a few clicks!
---
Harlingen Airport Parking Map
---